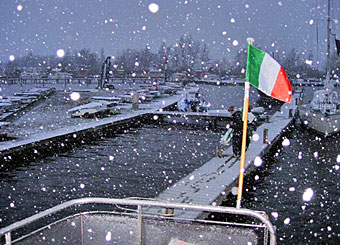 A snow clad Braassemermeer, Netherlands
Have you ever seen 200 Optimist sailors in a snowball fight prior to launching? Well this was the case on the last day of the 23rd Braassemermeer Easter Regatta.

4 HYC Optimist sailors travelled with an Irish squad of 16 to a most successful event for the Irish where about 220 sailors from 9 countries competed. Conditions were extreme to say the least ranging from no wind to gusts of 30 knots and from sunshine to sleet and snow showers.

Six races out of the scheduled eight flight races were sailed before the fleet was split into Gold, Silver and Bronze on the last day.

6 Irish sailors, including Ali Dix and Tara Flood made the Gold fleet, finishing 50th and 51st respectively on the same points! Holly Campbell finished 13th in the Silver fleet and Mark Condy was 1st in the Bronze fleet in his first international event. The top Irish boat was Alexander Rumball who was placed 18th overall. Aodh Kennedy from Kinsale won the Silver fleet.

Further details and photos can be found on the IODAI website http://www.iodai.com/ and at the event website http://www.braassemermeer.nl/. Well worth a look, particularly the photo book on the IODA website.