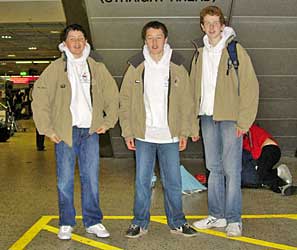 Scott Flanigan, Conor Murphy and Andrew Tyrell
 
Three HYC members are included in the 12 sailor Irish squad competing at the Magic Marine International Easter Regatta in Holland.

This long running annual fixture is sailed at Braassemermeer and is the first European Optimist event of 2006, with racing scheduled from Friday through to Monday. The entry is capped at 270, drawn from 12 countries around the World. To produce manageable races, the entrants are divided up into flights and the flights race against each other in pairs over the six heats sailed during the first three days of the event. Based on their results in the heats the sailors are then graded into gold, silver and bronze fleets and sail two further races on Monday to establish the overall placings.

The HYC members of the squad are Scott Flanigan, Conor Murphy and Andrew Tyrell, with Kevin Flanigan and Brian Tyrell travelling as members of the supporting group of parents. The Dublin based competitors flew out on Tuesday morning and met up in Holland with the rest of the squad who flew from Cork. Two days of training are planned at the lake venue, under the direction of coach Tristan McMillan, before the first race on Friday afternoon.

The group returns home on Tuesday and has Wednesday to get their breath back before heading off to Dromineer for the first weekend of the IODAI Trials at Lough Derg YC to select teams for the 2006 World and European Optimist Championships.