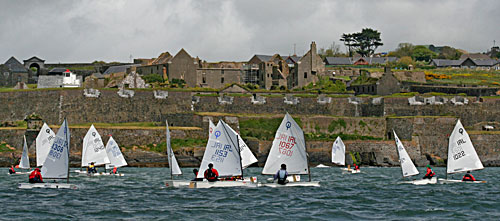 Racing with Charles Fort in background
 
14 HYC boats travelled to Kinsale for the PriceWaterhouseCoopers Optimist Munster Championships at the weekend. This is perhaps the largest turnout from HYC in years and is very encouraging to see Howth sailors competing in numbers at away events. 144 competitors sailed in the first regional event of the year.

High winds on the Saturday meant that only one race was held for the Senior and Junior Gold divisions. However, on Sunday the sailors were met with some excellent sailing conditions in the outer harbour with southerly winds ranging from 7-18 knots for most of the day. Indeed, the vantage point from Charles Fort couldn't have made for better viewing for supporters with the starting line and leeward marks just below.


Aoife Hopkins at the leeward mark
 
Results in the Senior fleet were very tight with only 5 points separating the top five sailors. Seafra Guilfoyle (RCYC) took the title by a point and looks set to continue on from his dominant position in the Junior fleet of last year. Tara Flood (7th) was top Howth boat but outside of the prizes. Craig Campbell (17th) and Cillian McGreer (18th) can be well pleased having improved on their placings at the Trials. Xander Morrison (22nd )and Robert Ferris (25th) also competed in this now fiercely competitive fleet.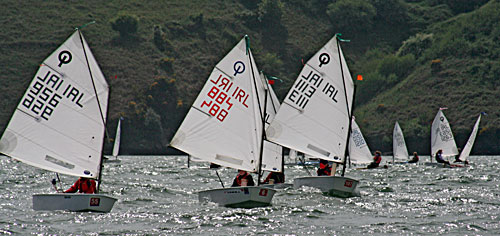 Ben Jennings is 884
 
The Junior fleet was won by Peter McCann (RCYC) who scored two race wins and and a 4th. Erica Ruigrok (14th) was top Howth boat with Fergus Flood (15th) on equal points. Erica posted an excellent 4th place in the very windy 1st race held on the Saturday.

Of particular note was Richard Hogan (22nd) who collected his first regional championship prize, placing 5th Junior Silver.

Seasoned sailor Robbie Dix was joined in the Junior Silver fleet for the first time by Aoife Hopkins, Nicholas Delamer, Isabelle Delamer, Ben Jennings and Conor Howard, this being their first ever regional championship.

Well done. The wind and tidal conditions made the event very challenging.
 

Fergus flood
 

David Delamer, Fred Campbell and Des Flood
 
Alex Kavanagh competed in the Regatta fleet of 21 boats in his first ever regional event. Conditions were difficult but his hard work at Leinster training over the winter paid off and Alex was well able to handle the gusty conditions and finished all his races to place mid fleet overall.

The next event will be the Ulster championships at Ballyhome on 13th /14th June before coming back to Howth for the Leinster championships on the 27th/28th June.