The second leg of the Optimist Trials got underway at Lough Ree over the May bank holiday weekend. Congratulations to Tara Flood who secured a place on the European Team, Xander Morrison on the International Development team, and Erica Ruigrok and Fergus Flood on the U-12s Squad.

The overall Trials were won by Patrick Crosbie (RCYC) who sailed a very consistent 2nd leg to the Trials, placing no worse than 6th in the eight races sailed. He was followed by Colm O'Regan (KYC), Seafra Guilfoyle (RCYC), Alexander Rumball (RSTGYC) and John Durcan (RCYC). Alexander Rumball opted to travel to the World Championships in Brazil leaving the remaining four sailors to go to the European Championships.

The sailors were truly tested by the classic lake conditions over the 3 days with winds varying from 5- 25 knots and more in some gusts. The very shifty conditions particularly on the Saturday and Sunday lead to many sailors scoring high numbers from being on the wrong side of a shift, usually on a final beat to the finish.

On the final day with places still to be decided, the fleet was greeted by a challenging 20+ westerly breeze with gusts in excess of 25 knots. Tara Flood had her best day of racing in these windy and testing conditions to secure her European place and a trip to Slovenia. Xander Morrison who was lying 4th after the 1st weekend unfortunately slipped back to 9th overall and out of the European Team as a result of some gear failure and the tricky conditions, though finished strongly on the last day. He will now travel to the French Nationals as part of the International Development Team.

Our U-12s Erica Ruigrok and Fergus Flood gained a valuable insight into the Trials process, gained a huge amount of experience from the event and put in some excellent results. Erica notched up a 7th and Fergus a 15th.

Cillian McGreer, Robert Ferris and Craig Campbell were unable to move up the points table to secure a place on the International Development Team with all three suffering from the very shifty wind conditions on the Saturday and Sunday. No doubt their experience on the lake will be a valuable one going in to future events.

The full set of results can be seen on www.iodai.com
European Team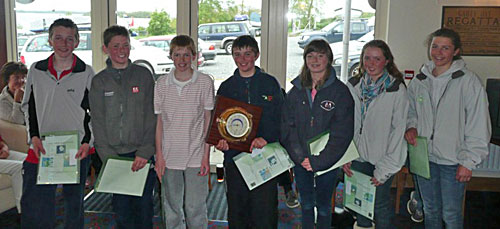 (Left to right) Colm O'Regan, Seafra Guilfoyle, John Durcan,
Patrick Crosbie, Fiona Daly, Amy Harrington & Tara Flood
International Development Team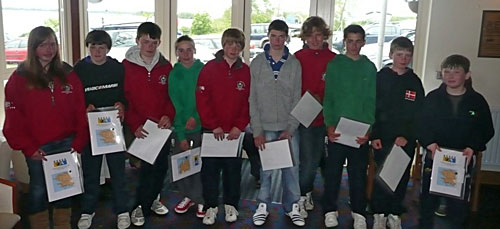 (Left to right): Katherine Geoghegan, Philip Brownlow, Tadgh Donnelly, Cliodhna O'Regan, Conor Byrne, Aodg Kennedy, Xander Morrison, Brendan Lyden, Cian Byrne & Peter McCann
Under 12 Team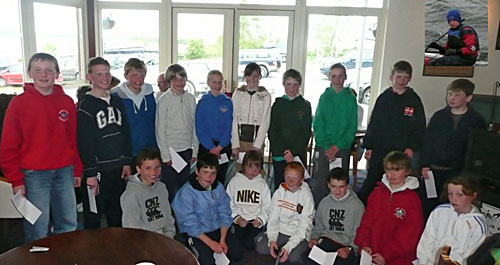 Standing (left to right): Ciaran Jordan, Donagh O'Buachalla, Mark Bolger,
Sandy Aplin, Louise Magowan, Erica Ruigrok,
Daire Cournane, Cliodhna O'Regan, Cian Byrne & Peter McCann.

Kneeling (Left to Right): Sean Waddilove, Fergus Flood, Harry Whittaker,
Sean Gambier Ross, Eoin Lyden, Sean Donnelly & Sophie Brown.

Inset (top right): Adam Hyland.