Ross Courtney started racing Howth 17 Footers in 1939 on

Echo

with John Pearson, while she was owned by his father, Drewry Pearson.

After the war, Ross campaigned

Mimosa

from 1947 to 1958, taking over the boat from his father Clen Courtney, who had also owned

Silver Moon

at various times from 1907.

One of the great rivalries for dominance of the 17 Footer class was between Ross Courtney and Norman Wilkinson, the latter having raced

Leila

for 52 years with great success.

When Ross Courtney died in 1997, the family commissioned sculptor Vincent Browne to create his vision of a Seventeen Footer in bronze.

Vincent will be known by many as the creator of Mr Screen, the bronze usher who stands outside the College Green Cinema, and of the bronze palm tree seat in Temple Bar.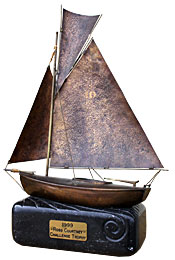 Ross Courtney Memorial Trophy