HYC Sailors Impress at Leinster Championships

HYC Optimist sailors in the Main fleet of the Leinster Championships over the weekend did exceptionally well. 98 boats, split between Seniors (43) and Juniors (55), competed in the 2 day event. The sailors had to cope with an unfamiliar autumn (cold) breeze ranging from 15 to 25 knots on the Saturday to a slightly more favorable day (warmer) on the Sunday with winds of 5 to 18 knots.

HYC enjoyed huge success in the Junior Fleet with Jamie McMahon finishing 2nd overall, including three 2nd places. The overall Junior Leinster champion was Chris Bateman from Royal Cork YC. Dylan O'Grady placed 10th overall and 1st Junior Silver, sailing out of his skin to record a 5th and 7th in Saturday's windy conditions. Max Kavanagh finished 12th overall with consistent top 20 results. Eve McMahon was 20th overall and 3rd Silver and Jonathan Sargent (26th) 6th Silver demonstrated the depth and future potential in the HYC fleet. Robert Cleary, Sam Crawford, William Lacy, Oliver Juchnevicius and Jack McMahon also competed and gained further valuable experience in the Optimist championship circuit.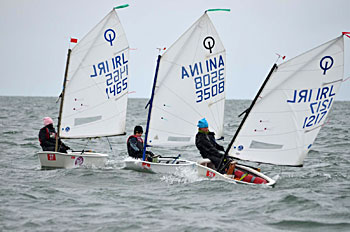 4 boats represented HYC in the Senior fleet but made their presence felt with Jamie O'Grady, 8th overall, Daniel Hopkins 15th, Alex O'Grady 16th and Shane O'Brien 25th. Overall winner and Leinster Senior champion was Harry Durcan, RCYC.

In the Regatta fleet, which was a combination of coaching and racing, 4 races were completed. Overall honors went to Conor Gorman (NYC). Ruth Lacy won Best Local prize coming 3rd overall, closely followed by Michael Fitzgibbon in 4th place. Best U-8 prize went to Luke Turvey and the Youngest Sailor prize was award to Victor Mueller.


Overall, I think the sailors really enjoyed the superb event put on by the club members and in particular the Kanoodle food and Aqua ice cream. With the massive potential coming through in our junior fleets the future looks very promising for the class and junior sailing overall.

Tara Flood,
HYC Coach
---