Following the abandonment of their first race on Friday evening, the Howth Seventeens enjoyed a full day of racing on Saturday when Scorie Walls and her race management team provided them with 5 windward-leeward races to conclude their 2012 National Championships.

John Curley and Marcus Lynch's 'Rita' proved that the age (of their boat) is no disadvantage and drove the 114 year old and intensively campaigned Seventeen to overall victory following 3 wins in the five races.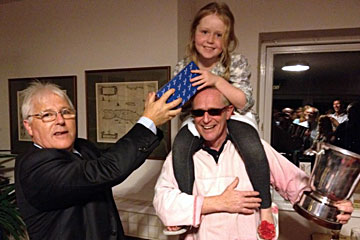 Frank Cassidy from

"Anita"

and daughter receive the Handicap Cup.

A variable wind and easterly sea conspired to make for difficult racing (and managing) but, following a first race that only managed to see 3 boats finish due to a dying wind, the remainder of the day made for the normal action-packed, incident-ridden and colourful event that this class provide every year.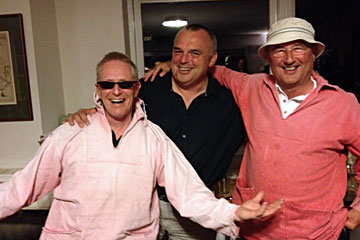 (L-R) Frank Cassidy wearing the 'Peter Courtney Smock',
Eoghan Ryan - Howth 17's Class Captain and Peter Courtney

Frank Cassidy and crew aboard 'Anita' took the Handicap honours and also won one of the more 'unusual' prizes on the day when, having beaten Peter Courtney's 'Oona' in race 2, Frank took possession of Peter's famous old pink 'smock'. This achievement relates to a wager that Frank would earn the 'honour' if his 'Anita' ever won line honors in a race that 'Oona' was competing in!

At the 'Championship Barbecue, Class Captain Eoghan Ryan thanked the Seventeeners and the race management for making the Nationals another memorable event.