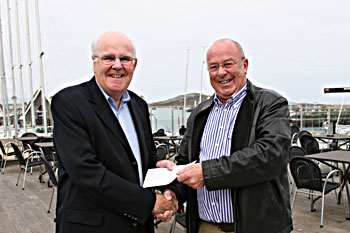 (L-R) Peter McKenna, Commodore HYC, presents a cheque to Nick Healy
on his retirement from HYC and thanked him for his service over the years
 
Nick Healy recently retired from Howth Yacht Club after 7 years on the Marina staff.

Nick has quite a background in sailing - he was brought up on the south side and started sailing in Dun Laoghaire when he was 6 years old and has kept it up ever since.

He had a Shannon One Design which he sailed for years on Lough Derg and Lough Ree. However during the seventies and eighties his sailing was curtailed as he ran a restaurant in County Meath, called Dunderry lodge.

He ran it with his wife, Catherine, who was a very talented chef, and they received a Michelin Star which they held until 1990 when they sold the restaurant and moved back to Dublin.

Nick's wife died in 1993 which left him at a loose end so he took up professional yacht deliveries and Tran's ocean deliveries where he crossed most of the world's great oceans.

On returning to Howth he sailed with Winkie Nixon and then with Kieran Jameson for many years, doing Round Ireland's, a Fastnet and several D2D races among other things.

He skippered Ian Morrison's yacht

"Safari"

for three years, and when the boat was sold he worked for a few years with his brother as a law clerk.

He did a few trips with John Gore Grimes including up to the Arctic. He was also on the famous round Iceland trip, which was abandoned off Scotland due to adverse weather and ended up instead as a 'Round Ireland Northabout'.

In 2002 he came to work at Howth Yacht Club, which he enjoyed immensely and made many good friends. He spent 7 very happy years there, retiring in May 2009.

He still continues to sail, mainly white sails cruising, although his next venture will be on land as he is planning a monumental train journey from "Holyhead to Hanoi, and beyond" in 2010.

All the officers and staff at HYC wish Nick the best of luck and a long and happy retirement.