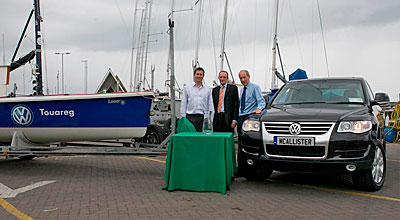 (L-R) David Quinn, Defending Champion,
David Kinna and Richard McAllister from McAllister Volkswagen
 
Howth will host the McAllister Volkswagen SB3 East Coast Championships this weekend, with a 6 race schedule planned over 2 days. Over 30 boats are expected with all the main sailing centres around the country represented, including 5 boats from the North and crews from Cork, Lough Derg, and Dun Laoghaire joining the now well established Howth Fleet.

The World Championships are in Dublin this September and this has meant competition and racing standards have increased significantly this year which should make for tight racing this weekend. The event will see the biggest and most competitive fleet so far this season on the SB3 circuit and will give an early indication of form for the domestic crews.

Last years winners, Tom Fitzpatrick and David Quinn, sailing 'Helly Hansen' are back to defend their title, with Colm Cunningham replacing John Malone at the front. They are joined by a strong host club line up including Kiwi Ben Duncan, sailing with Paul Adamson and Audrey McGovern on 'Sailingwest.ie Sharkbait' and sportsboat veteran Mike Evans, helming Des Fahertys' 'Aranow', with Brian Moran on the bow.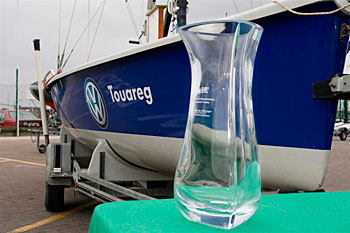 McAllister Volkswagen SB3 East Coast Trophy
 
Of the visitors, there are a number of well known crews who will be trying to wrestle the trophy away from Howth. These include Royal North man Dave Cheyne, a former European Championship winning crew who is credited with starting the fleet in Ireland, Sean Craig from the RStGYC who has been well placed at most SB3 championships and Colin Galavan from the NYC.

Racing starts at 12pm on Saturday and 10:30 on Sunday. Medium range weather forecasts are showing an exciting 20kts on Saturday and slightly less on Sunday. These conditions are ideal for the SB3 and should make for some very fast downwind sailing. The social side of the class has become very important and the social highlight for the weekend will be the class dinner planned for Saturday night in the club.