Puppeteer Nationals - 24th, 25th & 26th July, 2009
Author: Noel Davidson
Posted on: 27/7/09
Print Version
---
 
The Puppeteer 22 National Championships took place at Howth Yacht club over the weekend of 24th, 25th & 26th July.

PRO for the event; Derek Bothwell succeeded in running 5 of the 6 scheduled races on the Saturday/Sunday despite no wind on the Friday evening. There was a mixture of Windward / Leeward and Olympic race courses set on the Saturday & Sunday.

On the

Saturday

evening after 3 races in a steady building breeze, defending champion Garret May and his team on

Ibis

were leading the chasing fleet of David Clarke,

Harlequin

, Rob Stanley.

Mojo

, David Butler in

Enigma

and the visiting boat from Northern Ireland,

Jellyroll

helmed by Tom Molloy.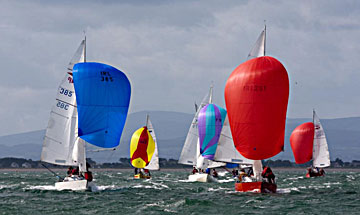 Sunday

brought heavy breeze and gusts up to 28knots and some great downwind sailing was experienced by the entire fleet. With another race win in race 4 - Garrett and his crew on

Ibis

took the title with a race to spare showing excellent speed in the conditions. 2nd place went to David Clarke on

Harlequin

and 3rd place was Rob Stanley on

Mojo

. Noel Davidson and his crew on

Pinocchio

secured the Echo title with 4 x 1st places with Mary Meaney

March Hare

2nd and Gerry Kennedy in

Schiggy

3rd.
 
This was certainly one of the most enjoyable events that the Puppeteers have competed in recently and huge thanks and praise to Derek Bothwell and his team for the excellent W/L Racing - but the real star of the event was Class Captain; Suzanne Carroll who had everything faultlessly organised - even the weather.

Congratulations to all those involved.
---