<% blackdot = "

" %>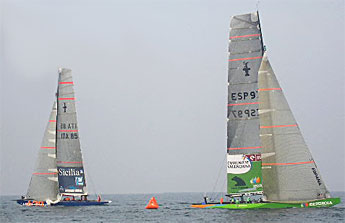 Desafío Español 2007

(ESP) defeats

+39 CHALLENGE

(ITA85)
 
America's Cup Match racing is a game of chess,
played by a rugby team driving a formula one car.
If you like yacht racing you should take a trip to the America's Cup racing in Valencia during the coming 2 months. The Port America's Cup facilities are superb and you can get up close to the racing and see the yachts and sail teams. Transport and accommodation are reasonable and direct flights are available from Dublin.

When I was there in mid-April, the weather was warm and sunny but unfortunately there was very little wind and racing was cancelled from Monday to Thursday and on Saturday of the first week. This was unprecedented as the shape of the landscape usually guarantees a sea breeze in the afternoon. The racing on Friday however was both exciting and fascinating as these 24 metre long thoroughbreds of yacht racing duelled with each other.

New to this AC has been the Act series of 13 sets of races held before the Louis Vuitton Cup that selects the Challenger. These Acts were held in Marseilles, Valencia, Trepani (Sicily), Malmo (Sweden) and back to Valencia. They involved both fleet and match racing and allowed all of the teams (including the defender, Alinghi) to assess their strengths and weaknesses against the opposition.

Sniffing the Wind
| | |
| --- | --- |
| BMW-Oracle with boom shade waiting for wind | China Team returns to dock |
The challengers were awarded points from the Acts that set a pecking order going into the Louis Vuitton Cup. Emirates Team New Zealand (NZL) led the challengers with 4 points after the Acts ahead of three teams on 3 points: BMW Oracle Racing (USA); Luna Rossa Challenge (ITA) and Desafio Espanol (ESP). The middle teams were Mascalzone Latino Capitalia (ITA), Victory Challenge (SWE), Team Shozoloza (RSA) all on 2 points and the back runners were Areva Challenge (FRA), +39 Challenge (ITA), United Internet Team Germany (GER) and China Team (CHN) with just 1 point each.

The vast majority of sailors on Alinghi (SWI), Oracle BMW (USA) and Emirates Team New Zealand (NZL) are all from New Zealand but in fact every team has a multi-national dimension.

The money involved in an America's Cup Challenge can only be realised when you see the support vessels that the teams have along with them.
| | |
| --- | --- |
| Larry Ellison's 150m motor yacht, Rising Sun is too big to dock in Valencia Harbour. When it was built a few years ago, it was said to be the largest private motor yacht in the world. It contains a large room where Ellison has designed the America's Cup to be displayed in all its glory when he wins. | Larry Ellison's 150m motor yacht |
Dream on Larry, there are some things that you cannot buy. For this same reason, money is no object for many of the leading teams.

At the other end of the Challenger list, money is in short supply. The +39 Team had to stop paying the wage bill for a while. Ian Percy is their helmsman and over a few beers (really!) he told me that he had his most expensive protest ever following a collision with the German boat where the +39 carbon mast was broken. By winning the protest, the team received compensation of almost a half-million euro and that paid a few bills to keep them in the cup for a while longer. The mast has now been repaired but was not re-stepped in time for the first day's racing of the Round Robin where +39 was beaten twice using an old mast from Alinghi.

The America's Cup is run by America's Cup Management and it parallels Formula 1 Grand Prix in many aspects of the running. It's like running the HYC Autumn League but on a grander scale: everything has been super-sized.
Marcus Hutchinson of Howth

is the Media Director for the America's Cup.
He has weighty responsibility for worldwide media aspects associated with the AC. This includes responsibility for two large media boats (capable of 100 - 200 passengers each), a fleet of photographer RIBs, courier RIBs to get the media chips (not rolls of film an more) ashore for immediate transmission. America's Cup radio is broadcast live from the media boats and can be heard online. After each day's racing, all teams involved must send two representatives to the media enclosure for TV, radio or news interviews.

Media Boat
Marcus has an endless knowledge of the America's Cup: the boats; the sailors; the owners; the sponsors and all aspects involved in running the greatest yachting event in the world.

Marcus said to spread the word and encourage Irish sailors to visit the Americas Cup experience before it ends in July. It may well be hosted in a more obscure venue next time (such as Dubai, New Zealand or San Francisco).



America's Cup Fact Sheet



City: Valencia, Spain
Venue: Port Americas Cup


| | |
| --- | --- |
| <%=blackdot%> | This is a vast newly renovated area between the beach and the commercial port that has been designed solely for the Americas Cup. |
| <%=blackdot%> | Access is free but there is a strict security search at each point of entry. |
| <%=blackdot%> | Inside the complex there is free access to a wide variety of facilities. |
| <%=blackdot%> | Both the America's Cup and the Louis Vuitton Cup are on open display. |
| <%=blackdot%> | There are spectator boat trips available from 50 to 100 (but you get a refund if the racing is cancelled). |
| <%=blackdot%> | There are nineteen bars and restaurants. |
| <%=blackdot%> | Free transport is provided within Port AC in the form of Water Bus or Road 'train' |
| <%=blackdot%> | Each team has a base where you can see their yachts, support craft, teams, workshops and merchandise outlet. |
| <%=blackdot%> | There are exhibitions of previous AC hulls, keels and a museum. |
| <%=blackdot%> | Many interactive facilities exist to learn more about the AC. |
| <%=blackdot%> | Giant TV screens allow supporters to see the racing as it happens on the water. |
| <%=blackdot%> | An enormous hot air balloon allows a 10 minute view for just 6. |
| <%=blackdot%> | If you want to buy team merchandise, there are outlets everywhere but such is the turnover that you are advised to purchase in the morning when the shelves have been re-stocked and the choice is greatest. |

Web: www.americascup.com



Dates:


May 14-24 Louis Vuitton Challenger Series Round Robin
June 1-12 Louis Vuitton Challenger Semi-finals & Final
Jun 23 - Jul 4 America's Cup Match Races



Logistics:


Direct Flights: www.ryanair.com (Dublin - Valencia)
Accommodation easily booked via web using Ryanair web-site.
Public transport is efficient & cheap
(Bus route 19 from city centre to Port Americas Cup is just

1.15)