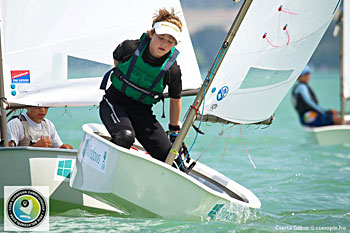 Alex O'Grady (and photos below)

I qualified this year in the national trials for the Europeans Team and was selected to travel as part of a team of 3 girls and 4 boys.

We arrived in Hungary on 24th June late at night. The day after we went straight into training, collecting our Winner Optimist charter boats and using our own sails which we had brought with us. The team was made up of sailors from Dun Laoghaire, Malahide, Cork and myself from Howth and we all got on really well.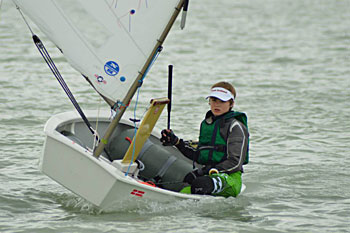 During the first week of practice the conditions were perfect for us - 15 knots gusting 23 knots, warm temperatures and very warm fresh water in the lake. This was not really what we had expected, as the lake is well known for very light winds. The practise race on the 30th of June was cancelled due to heavy winds.

As predicted, the whole event was very light and we did not get the full schedule completed any day. While we were waiting around for wind we had a lot of time to practise our skateboarding water, polo and trampolining skills on Olympic trampolines in the hotel. All of the teams stayed in the one hotel, so there was always a good crowd around and we became quite friendly with the Finnish and New Zealand teams. We discovered that one of the NZL guys goes to the same school as my cousin in Auckland.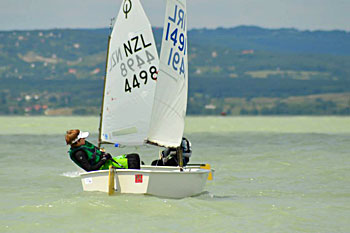 We ended up with only 8 races completed out of the 12 scheduled. I didn't do as well as I had hoped in the event and I was very disappointed, but it was my first international regatta and the standard was very high. There were no weak sailors in the fleet, so if you made a mistake you lost a lot of places and it was very hard to get them back. However, it has been a great learning experience and I came back to Ireland with friends from lots of different countries.
Results >>