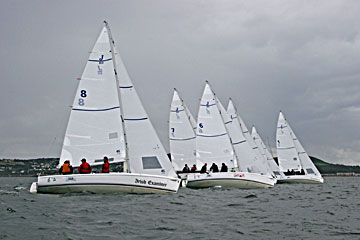 The J80 Fleet at one of their starts
 
The inaugural HYC Club championship took place Sunday 19th July with Laura Dillon emerging victorious. Laura was one of 16 class nominated helms that competed in ISA sailfleet J80 in a 9 race series.

2 flights of 3 races produced 8 finalists that faced off in a further 3 race final.

PRO for the event Peter McKenna had to contend with 80 degree windshifts and strong showery squalls in the afternoon final. A two hour delay while awaiting the wind to settle did little to dampen the competitive spirits of helms and crews.

Ross McDonald and crew from Class 1 had a 2nd, 5th and 3rd place to finish 3rd overall with 10 points.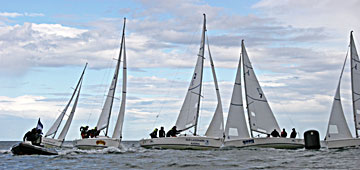 Plenty of excitement during mark rounding
 
Ben Duncan, the SB3 supremo went into the final race with a 1st and 2nd place in the previous 2 races but dropped into 7th place in the final race to take 2nd overall - but it was Laura Dillon and crew who finished 2nd in the final race to add to her previous 2 x 3rd places to take the title with 8 points overall.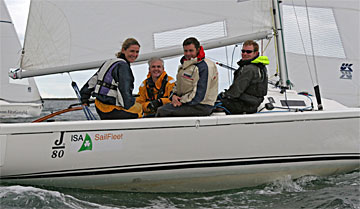 The Winner, Laura Dillon and crew
 
The success of this inaugural event was down in no small part to the many club members who unselfishly helped on the day, the honest, clean racing of the nominated helms and crew and the patience of the PRO, Peter McKenna and his team who succeeded in running 9 races in one day, inclusive of the 2 hour weather delay.

This is certainly an event that will remain in our memories and grow in importance on the HYC sailing calendar in years to come.