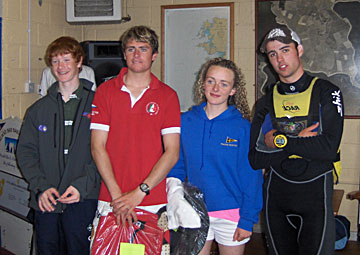 Mark Condy, Alan Ruigrok, Diana Kissane, Ronan Cull
 
Ten HYC Laser sailors travelled to Galway Bay Sailing Club for the Connaught Championships on 27th & 28th June. The sailors had a very successful weekend, winning two of the three classes and taking the runner-up position in the third.



Laser 4.7


Mark Condy won the event taking line honours in race 5. Diana Kissane who took the opportunity to squeeze a Laser event into a busy 420 schedule was fourth overall and first girl winning race 4. Mark Condy is now competing in the Warnemunde regatta this week.



Radial


Alan Ruigrok and Conor Hopkins raced in the radial fleet with Alan finishing second overall, having led after Day 1. The overall winner was Chris Penney of East Antrim BC with three race wins on Sunday. Alan has travelled to Copenhagen for the European Championships and we wish him well at the event.



Standard


Ronan Cull of HYC, fresh from competing in Kiel Week, won the event winning race 2 in the process with Paul McMahon in fourth overall. Paul Derham was fourth master with Brian Jackson sixth and Michael Delaney eight master. Eoin Delap also competed in the event.