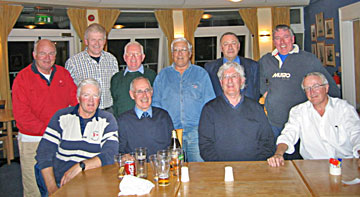 Standing (L->R)
Gerry O'Neill (HYC Commodore), Declan McCabe (HYC C2 Captain),
Terry Giles (HYC), Brian Cusack (C2 Captain DBSC), Joe Carton (HYC)
& Ian Byrne (HYC)
Sitting (L->R)
Peter McCabe (HYC), Arnie Talbot (DBSC), Tony Brown (HYC)
& Gerry Kinsella (DBSC)
Representatives of HYC Class 2 were invited by DBSC Class 2 to join them for an informal social evening in the RStGYC on the 8th of March last. The objective was to extend the relatively distant, on-the-water contact to a more sociable footing and to meet new friends and help develop the very successful and competitive Cruiser Class which we share. HYC representatives Declan McCabe (Captain), Ian Byrne, Joe Carton, Terry Giles, Francis Ennis and Dara Lowry were made very welcome and it was an extremely successful and most enjoyable evening.

Naturally, Declan had to reciprocate the invitation and a DBSC Class 2 contingent Darted across to Howth to join us for a meal and a few drinks after racing last Wednesday the 10th May. The visitors included Brian Cusack (DBSC Class2 Captain), Gerry Kinsella, Arnie Talbot and Tony Brown. They were entertained by Declan, Terry, Ian and Joe ably assisted by Peter McCabe, John Marrow and Gordon Knaggs. HYC's stamp of approval was assured when Commodore Gerry O'Neill was introduced to our guests.

It was again a very successful evening and, hopefully, an ice breaker to even wider on-the-water and social participation from both sailing areas.