On Thursday 9th February the 10:00 Dart left Howth carrying a contingent of Howth Yacht Club's senior members led by the past Commodore Gerry O'Neill. On its arrival at Sutton and Bayside Stations additional troops boarded bringing the enlisting up to 13. To the dismay of many aboard, the wives of four of the troops also joined the Dart.


The group at the harbour in Greystones
(click photo for larger size)
 
The destination of the troops was Greystones where they were to survey the current status of the planned marina. On arrival at Connolly Station four of the men shed tears as their wives disembarked to continue their planned lunch date in Carrick-on-Shannon. Once out of sight their tears quickly dried up. At Greystones the troop increased to 15 when two Malahidians joined.

A parade through the main street to the Harbour was followed by an extensive survey and patrol to the pier extremities. We have since heard that parties interested in procuring a marina berth, which is planned to be in place this year, are being invited to a meeting next month.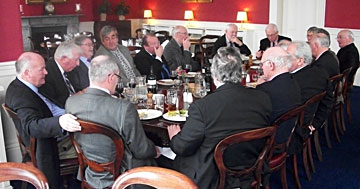 At lunch in the RIYC
(photo Pat Murphy)
 
On re-boarding the Dart the next destination was Dun Laoghaire and a lunch appointment at the Royal Irish Yacht Club. While a Trooper left us at Dun Laoghaire we were reinforced by four new recruits thus bringing the company strength up to 18.

The name given to the company is Gerry's ROMEOS (Retired Old Men Eating Out)

16:00 hours saw us re-join the dart for the journey back to our respective barracks after a most enjoyable outing.

PS ... The Carrick-on-Shannon contingent reported a great day as well.