HYC finish 5th in Dennis Connor International Yacht Club Challenge in New York
Author: Noel Davidson
Posted on: 24/8/10
Print Version
---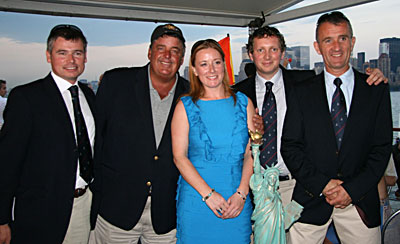 Team with Denis Connor
 
After 3 very intense days of international competition, the team representing Howth Yacht club finished 5th overall beating some very talented opposition including the two local Manhattan Yacht Club teams.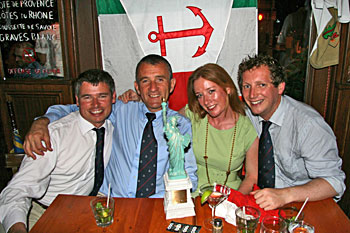 Noel Davidson (Bow), Dave Butler (Trim), Emma McDonald (Helm) & Joe Turner (Trim)
 
The team consisted of :- Emma McDonald (Helm), Joe Turner (Trim), Dave Butler (Trim), Noel Davidson (Bow), Jennifer Nother (Reserve Crew), Alison Miles (Reserve Crew) and the event was sailed in a fleet of J24's.

In fact if it was not for a penalty after a collision in race 4 (Under Regatta rules, if a collision occurs, both boats have to do turns no matter who is in the right / wrong) and the cancellation of race 7 on the last beat due to a approaching thunderstorm (HYC was leading at the time) a podium position could have beckoned.

The regatta was sailed in the very busy waters of the Hudson river in New York City which along with the challenges of avoiding commercial traffic, some of the strongest currents that the crew have ever experienced had to be negotiated in varied winds from 5kts on the opening day to 30kts plus during approaching thunderstorms on the final day.
 

The Boat
 

The Trophy
---
© 2018 Howth Yacht Club. All Rights Reserved.