Function to Mark the Retirement of Michael Martin, Tony Campion and Gerry Moran
Author: John Deane
Posted on: 28/1/10
Print Version
---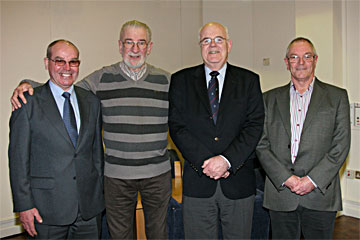 (L-R) Tony Campion, Gerry Moran, Commodore Peter McKenna
and Michael Martin
 
Invited guests joined with the Commodore to wish Michael Martin, Tony Campion and Gerry Moran well in their retirement from HYC.

Actually this is Michael Martin's second retirement from HYC, as his official retirement was 5 years ago. Since then he has worked a 3 day week in HYC's Accounts Department.

Michael has worked tirelessly behind the scenes and has immense experience and knowledge of HYC and its members which he is now passing on to Yvonne Cranley, who takes over from him in Accounts. However, even after this 'second' retirement he is not quite gone yet - as he will stay in touch over the next few months in the event of any queries.

Tony Campion joined HYC about 5 years ago as Night Watchman and has proved to be a great front line man. He has dealt with visitors and members in a courteous and efficient manner throughout his time at the club.

The surprise guest was Gerry Moran as he retired two and a half years ago and for some unknown reason the occasion was not marked. So, better late than never!

Gerry was also Night Watchman for three years and as with Tony was courteous, efficient and helpful. He also had the ability of regaling everyone who cared to listen about his past seagoing episodes and the affairs of state. Again, visitors went away smiling.

On behalf of the General Committee and the staff the Commodore wished them all every happiness and health in their retirement and presented each of them with a voucher as a token of the club's appreciation.
---