Photo: Gerardine Wisdom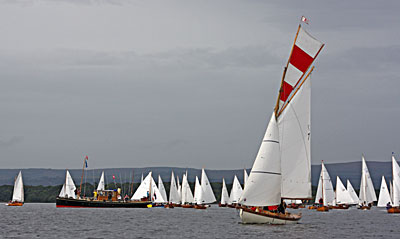 Committee Boat

Phoenix

(left) and Howth Seventeen

Aura

(foreground)
at Dromineer in September. Their combined age is 246 years.

And as most of the Water Wags in the photo are centenarians,
we're looking at nearly two thousand years of classics milling around the start line.
 
When Ian Malcolm and his team took their Howth Seventeen

Aura

to the Waterways Ireland Classic Boat Regatta at Dromineer on Lough Derg in September, they knew they might find some even older boats, for all that

Aura

has registered 110 years. But a boat built in 1872? Well, that's when John Lefroy's 58ft

Phoenix

- the Committee Boat at the Classics - was built of the famed Lowmoor iron by Malcolmson's of Waterford. When she and

Aura

were seen together, it was noted that we were looking at a combined age 246 years, and that's without including the ages of the skippers ...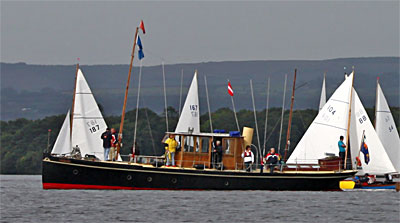 Enlarged photo of Committee Boat

Phoenix

(above)
 
It's said that in one stage of her 136-year career,

Phoenix

was based in Howth. But for a very long time now she has been a much-loved feature of Lough Derg, and her handsome appearance puts most other classics in the shade. That said,

Aura

was much admired for her graceful lines, immaculate maintenance, and neatly-setting jackyard tops'l. A collection of historic photos of the 1835-founded Lough Derg YC published at the Regatta indicated that the last time a jackyard tops'l was seen on Lough Derg was in the 1920s, as they went all modern with Bermudan and gunter mainsails after that.

Certainly

Aura

made such an impression that she appeared on the front page of the subsequent issue of

The Guardian

. Not your London

Guardian

, we hasten to add. No - this was the Nenagh

Guardian

, the voice of North Tipperary.