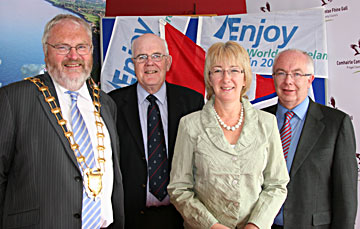 (L-R) Cllr Ciaran Byrne, Mayor of Fingal - Peter McKenna, Commodore HYC
Mary Hanafin TD, Minister for Tourism, Culture & Sport
David O'Connor, Fingal County Manager
 
Sports Minister attends launch event at Club's annual regatta
 
A fleet of around 50 boats, including some of the world's top sailors and Olympic medallists, are expected for the Etchells World Championships, it was announced at a Reception in Howth Yacht Club after the Lambay Race attended by the Minister for Tourism, Culture & Sport Mary Hanafin TD and the Mayor of Fingal, Cllr. Ciaran Byrne.

Among those competing will be sailing legend John Bertrand from Melbourne, Australia, the man who wrested the famous America's Cup from the USA in 1983 and who has raced Etchells successfully for many years. Other notable entries include defending champion Jason Muir, two former champions Jud Smith (2006) and Peter McNeill (2004) and last year's runner-up Damien King. Also racing is Irish-born Noel Drennan who has extensive big boat experience on boats such as BMW Oracle.

The most prestigious international sailing event in Ireland this year, the Etchells Worlds has received welcome support from Fingal County Council, the Irish Sports Council and Dublin Tourism.

Twelve Irish crews have qualified for the event, with Dan O'Grady and his crew from the host club completing the trials series in top spot. Ahead of them and the visiting boats is a tough six-day racing programme from August 23rd to 28th on courses set by International Race Officer David Lovegrove.

"We have been planning the event for three years now," said Organising Committee Chairman Berchmans Gannon, "and we are happy that we have put in place a championship that will be remembered for top class competition on the water and the best Irish hospitality ashore."