SB3 Northern Championships - Carrickfergus Sailing Club - 2nd & 3rd May
Photos Courtesy of Carrickfergus Sailing Club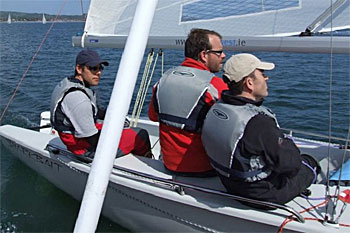 The winning HYC

Sharkbait

Team, from left: Ben Duncan, Ric Morris & Brian Moran
 
A small contingent of HYC's SB3 fleet travelled to Belfast Lough to compete in the SB3 Northern Championships, which was sailed out of Carrickfergus Sailing Club on 2nd & 3rd May.
Sonic Zoom

(Emmet Ryan, John White & James Ryan),

Quantative Easing

(Paul McMahon, Davie Carr & Ian McSweeney), and

Sharkbait

(Ben Duncan, Brian Moran & Ric Morris) took on 18 competitive boats from all over Ireland, sailing 6 races in a range of conditions from 3 knots, to gusts of over 30 knots at times, with shifts of 30 degrees also testing the mettle of the crews.

The

Sharkbait

team showed their intentions for the regatta early on, giving the fleet the slip at the leeward gate in the first race and building a big lead that never looked under threat.

Quantative Easing

started with a solid mid fleet finish, 2 places ahead of

Sonic Zoom

in 11th.

The second race of the first day was sailed in similar sub-5kt conditions, with

Sonic Zoom

finishing strongly in 6th behind

Sharkbait

in 2nd place, giving the

Sharkbait

team the overnight lead in the event.

Full concentration on

Sharkbait


on the way to winning race 1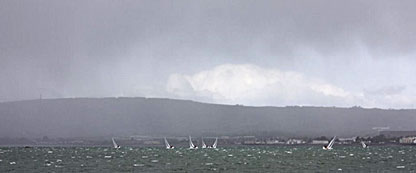 One of the 30kt squalls, typical of Day 2!
Day two started with squalls tearing across the Lough, and tested both the competitors and the race committees nerves, but eventually 4 more races were completed.
Competitors started the first race into a 25-30kt buster, but the boats made it around safely and

Sharkbait

took their second bullet for the series, with

Sonic Zoom

and

Quantative Easing

finding the conditions tougher going than day one.

The rest of the races were sailed in very shifty and gusty conditions as squalls continued to roll off the hills to windward of the course, with

Quantative Easing

improving strongly as the day went on, and with

Sonic Zoom

posting consistent top 10 finishes.

The

Sharkbait

crew had a few anxious moments playing dodge'em boats during the start of the last race, but had already sealed the championship with a race to spare, bringing the SB3 Northern Championship Trophy to Howth for the first time!



Sonic Zoom


Emmet Ryan, John White, James Ryan
The top 3 overall for the event were:



1st: Sharkbait HYC (Duncan/Moran/Morris) 11 points
2nd: McCready Sailboats RUYC (Flannigan/Spence/Tomalin) 16 points
3rd: Modus Operandi RCYC (Collins/Collins/Creaden) 16 points



Other HYC results:



10th: Sonic Zoom HYC (Ryan/White/Ryan) 42 points
16th: Quantative Easing HYC (McMahon/Carr/McSweeney) 66 points

Full results can be found at:
app.carrickfergussc.org/Racing/2009/LaserSB3Northerns/results.html