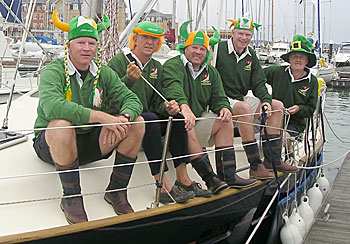 HYC Vikings invade Cowes


(L-R) Peter McCabe, Geoff Gray, Dara Lowry, Declan McCabe and Conor Holmes
( photo taken by Michael Torpey )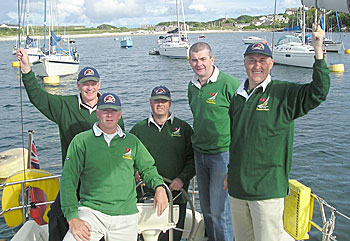 (L-R back row) Declan McCabe, Dara Lowry, Michael Torpey
and Conor Holmes with Peter McCabe in front.
( photo taken by Geoff Gray )
A race around the Isle of Wight ("IoW"), on the South coast of England, has been held in June every year since 1931 and is organised by The Island Sailing Club in Cowes. The 55NM course starts at the Royal Yacht Squadron (a very posh English yacht club) and goes anticlockwise around the island to a finish off Cowes. With 14,500 sailors in 1,800 boats this year it is one of the most popular races in the world. Entries ranged from the superfast multihulls and 70ft / 80ft monohulls to the weekend sailors in their 20ft cruisers and even a few SB3s and Etchelles.

For the past five years a group of 5 intrepid sailors from Howth Yacht Club has been crewing an English friend's Southerly 110 called

Summertime

in the race. This year there were about 10 classes in all and

Summertime

started in the "Purple Fleet" with 360 other boats and with a sub-section of 65 boats of similar handicaps.

The various classes commenced racing at 0500hrs and at 10 min intervals thereafter with the TV gardener/sailor, Alan Titchmarsh, as starter.

After a good start

Summertime

had a fast beat down the sound with a F4 SW and a 3 knot tide under us. By the time we rounded the windward mark of The Needles we were up among the two fleets ahead of us and after a perfect hoist we headed off on spinnaker hugging the south coast to avoid the ebb. This was a good tactical decision because, at St. Catherine's Point, when we again converged with the boats that had taken the offshore route to try to get more wind we had moved up into the "Sunsail 37" fleet which had started 30 mins ahead of us.

Having gybed the spinny we stayed with this fleet all the way to Bembridge Ledge at the Eastern end of the island. At that point we must have been near the front of our Purple fleet but the wind died and the flood tide was against us as we headed back up the sound past No Man's Land Fort.

Summertime

does not sail or tack well in light winds so with regular tacks to stay inshore we lost a lot of ground against the other lighter boats.

We finished in a time of 9hrs 20mins corrected to 8hrs.51mins on handicap. In comparison, (Dame) Ellen MacArthur, was first across the line in an Extreme 40 catamaran in a time of just over 4hours reaching speeds of 25 knots at times. Nevertheless we were very pleased with our performance in getting 8th in our sub-class, 31st in the Purple Fleet and 148th out of the overall 1,800 boats.

The crew were, Conor Holmes who flew the spinnaker (a sail, bought from Neil Inglis, and originally from "Noddy"), Dara Lowry on foredeck, Declan McCabe on main, Michael Torpey and the owner, Geoff Gray, on jib and Peter McCabe on helm.