Safari

rides the Portuguese Trades to Porto Santo, Madeira and the Canaries
Author: Carmel & Ken Kavanagh
Posted on: 30/8/07
Print Version
---
The last time I wrote we had just arrived in

Almerimar

, 30 miles west of Cabo de Gata on the south coast of Spain with a long list of jobs to be done. After a ten day pitstop and with the list completed plus a delightful week long visit from our friend, Regina Martin, who was also roped into helping with her sewing skills (she coveved the cockpit cushions with toweling) we set out for

Ceuta

in North Africa on August 4th.

We had also thrown in a weekend visit to

Almeria

with Regina. Ryanair does direct flights to there from Dublin. (One wonders who on earth would want to visit such a town!) Apart from that and the wonderful old Alcazaba and perhaps the fact that John Lennon composed "Strawberryfields for ever" here, it is not worth visiting ! Its a grotty, seedy kind of place in my humble opinion.
| | |
| --- | --- |
| Balearics and Regina in Almerimar | Alcazaba |
Anyway, off we set on our overnight trip towards the North African side of the

Straits of Gibraltar

with practically no wind at all. It was also very hot. That night's crisis was not with a raging gale or bumpy, uncomfortable seas but with our RADAR.

As darkness fell, we put the radar on standby as is our practice, but no dice - it wasn't working! We were heading towards the busiest stretch of water in the world, the Straits of Gibraltar, with no radar. Not a happy prospect! After 90 minutes down below, the skipper discovered that the wire to the radar had been accidently dislodged when the cables for the new battery charger were being installed in Almerimar. He repaired it and thank God for that because the following morning at 1030 when we were about

10 miles off the coast of Ceuta

and right in the path of merchant ships exiting the Traffic Separation Scheme in the Straits, a really thick blanket of fog descended literally with a shower of rain!

Just as we were trying to sort out the various targets on the radar screen, a very loud and very close foghorn nearly blew us out of the water! We got a dreadful fright. We turned 90 degs. to starboard and fled away from the noise. Remember visibility was nil- even Tarifa radio gave a special navigation warning to that effect shortly afterwards.

After motoring for about an hour in the direction of Gibraltar on the opposite side, visibility extended out to about half a mile. We decided that

Ceuta could be visited another time

and headed once again for

Gibraltar

. We were grateful for all the experience we have had sailing in fog around Howth, the Isle of Man, Milford Haven, the English Channel and in the Chanel du Four in Brittany!
We were made very welcome indeed by Queensway Quay Marina who fitted us in alongside the quay wall, having remembered us form our 5 week stay in February and March. We met up with our friends, John and Dee King who live on board their boat, Woodfield II. Their company was as always a great pleasure.

After 3 days waiting for the wind to change from east to west and for the fog to lift, we

departed for Lagos

which is on the southwest corner of Portugal. Even though we departed Gib 3 hours after high water to go with the current as is recommended, we made very, very slow progress through the 12 miles of the Straits because the wind hadn't quite changed to the most favourable direction. However, we eventually got past

Tarifa point

, which is reputed to be one of the windiest spots in Europe and headed out across the

Bay of Cadiz

.

We had a busy night with plenty of traffic to avoid, but with little or no wind. The following evening, we realized that we would not make it to Lagos in daylight so we

pulled into Villamoura

for the night after spending 27 hours at sea. It is a lovely marina and the place itself was buzzing with holidaymakers.

After a leisurely lie-in, we left Villamoura the following morning and headed the 20 miles or so

down the coast to Lagos

- our hopping-off point for the Canaries. We spent 3 nights in Lagos (got 3 nights for the price of 2 because we are doing the Arc). The 5 day forecast was favourable for the long trip down to Lanzarote which is a five day, four night journey by yacht. We reckoned the time was right to set sail.
On August 13th, we

headed out into the Atlantic

with plenty of wind and blemmed along averaging 7 knots under sail. There was 19-25 knots of wind form the West initially which made for brilliant sailing.

It was a lot colder than in the Med so all the fleeces were taken out of mothballs! We put on "George", the selfsteering system and enjoyed one of the best and longest sails we have had since we started out on our adventures.

We reefed the mainsail and the jib for the first night as there was a little more wind than we would have liked. With dawn came a rather lumpy sea, a cloudy sky and a falling off of the wind.
Now we had to motorsail in order to maintain the necessary average of 6 knots. We were delighted with our SSB radio as we were able to receive weather forecasts in French (my French is still very useful!!) from Meteo France.

We were aware that there were very, very strong winds around, in particular off the south coast of Ireland and also in the Canaries. Anyway, on day 2 we

decided to alter course for Madeira

which is further west and would leave us about 300 miles northwest of the Canaries. This decision was based on a number of factors. Firstly, we might never again get the chance to sail to Madeira as we probably won't be passing down this way again and secondly, we didn't want to push our luck by remaining that extra night at sea. As things turned out, it was a lucky decision!

The wind picked up again, the engine was turned off and away Safari went, dancing along on the waves torwards Madeira! There was very little traffic around because we were so far out into the Atlantic, I suppose. We sighted not one single vessel during the next 24 hour period!

Our 3rd dawn at sea arrived with a lot of cloud, an ever-increasing swell and a wind that was steadily freshening. Life was uncomfortable on board so we decided to

pull into Porto Santo

, the smaller of the 2 inhabited islands of the Madeira archipelago. When we arrived into the harbour, there was too much wind for Safari to berth onto the rather small and flimsy-looking pontoons. We made one attempt but got caught on the bow of the neighbouring boat, pushed onto it by a sudden and violent gust of wind. We escaped with no damage to either yacht but decided enough was enough. We dropped anchor and there we remained for a full week, prisoners of gale force winds and 4 meter swells!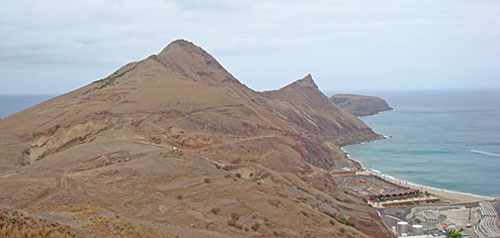 Porto Santo and Madeira
The harbour was very sheltered and the holding was excellent. Not one of the 4 yachts on anchor budged throughout those first 4 days of near-gale to gale force winds. This was our very first time on anchor in bad conditions since 1992 but we held our nerve and placed our faith in our very sturdy 65lb QCR anchor and chain.

I was just considering nominating us for the Cork Dry Gin "Sailor of the Month" - we had after all sailed to Porto Santo and remained on anchor in a gale for a week. But this achievement paled into insignificnce when

Witchcraft of Howth

arrived into Porto Santo at midnight on Sunday having sailed nonstop from Donaghadee in the North of Ireland in some very challenging conditions. We knew this boat from Howth marina. The skipper. Ed Wheeler and his sister, Diana, had completed the journey in 12 days. They had fortunately just missed the violent storm-force winds off the south coast of Ireland which affected the Fastnet Race. They came on board for dinner that night and one would think they had just completed a crossing to the Isle of Man, so unfazed were they by their feat! I, on the other hand, was in total awe of them!! They are truly intrepid sailors.



Porto Santo

is a nice enough little spot given that it is a volcanic rock. Everything is of a brownish grey colour and the winds howl down the mountians into the harbour which is rather out on a limb. It is a 30 minute walk into town to the nearest shop. However, there is a magnificent beach with real golden sand which makes up for the lack of colour elsewhere on the island. During the first few days we did all the touristy things, explored the island, enjoyed the beautiful beach etc but we were soon suffering from a large dose of cabin/harbour fever!! We were tired listening to howling, gusting winds, tired looking at the camel-shaped volcanic mountain which rises up from the harbour, tired walking into town for a loaf of bread. I had learned how to play chess and completed all the Ordinary and Higher Level Examination papers in Spanish, had done countless Crosswords and read a few novels.
Porto Santo and Madeira
So on Thursday 23rd August, we decided to break out and

head down to Madeira

which is 30 miles further south. We settled our bill of

111 for the seven nights ( with use of toilets and showers), and proceeded to weigh anchor except that it would not come up!! Dear God, with 25 meters of chain still out, it would not budge. The bow of the boat shuddered any time we tried to move it. The office sent out assistance but to no avail.

Finally an entire class of scuba divers arrived in their dinghy and one of them went down and freed the anchor which then came up to the cheers of the gathered crowds and the relief of Safari's skipper and mate! the verdict was that it was dug in too well! Everybody refused payment.

But then we had a real dilemma! It was now 1645 and the trip to Madeira would take 5 hours or so. We would arrive in the dark which is against our creed and religion!! We simply could not anchor again with everybody so pleased and proud of their efforts to help us, so we just set off!

We hoisted all the sails, turned the engine up to 2300 revs and shot like the proverbial clappers towards Madeira. The gods, winds and swell were all on our side. Our average speed never dropped below 7.5 knots and we arrived in the marina of

Quinta do Lorde in Madeira

just as darkness was descending! What a trip - mad but unforgettable!

We have now just spent 2 days on this beautiful island. I could write another entire epistle on it but I know that would be too much altogether. The marina is once again rather isolated from civilisation but the staff are exceptionally helpful and kind and we get a 20% reduction because we are participating in the Arc. The weather has settled again and looks just right for the Canaries.



Update on 30th August



We

departed Quinta do Lorde marina

on Sunday 26th August at 11.30 a.m and

arrived at marina Rubicon near Playa Blanca in the south of Lanzarote

48 hours later after a pretty uneventful trip.

There was a near full moon. So on the first night, it never really got dark at all -the sky was clear and beautiful. It was a lot cloudier on the second night but still never became pitch black. There was a steady north easterly wind of 6-12 knots as expected - not strong enough to make passage without the help of the engine at low revs.

We rushed down to meet up with old school friends of mine, Pat and Tommy Healy who are currently on holiday here in Lanzarote. They came on board yesterday and we had a great day - far away in time and place from our school days in Scoil Chaitriona, Eccles Street many years ago.



We will spend the next 3 months visiting the different islands here

and we will also be welcoming many family members and friends who are coming to visit and to perhaps have a last look at us before we set out to cross the Atlantic on November 25th with the ARC (the Atlantic Rally for Cruisers).

I won't be in touch again until nearer our departure date but even if you don't hear from me in a general epistle, remember that I am still here at the receiveing end of any news you might like to send!

Carmel & Ken Kavanagh


Safari of Howth


EMail : carmelveronicakavanagh@yahoo.ie
---