The first ever Irish Cruiser Racing Association (ICRA) National Championships to be held on the West Coast of Ireland took place on 11th - 13th June, hosted by Tralee Bay Sailing Club. The event also incorporated the West of Ireland Offshore Racing Association (WIROA) West Coast Championship which ran from 10th to 12th June.

The event was sailed in beautiful Tralee Bay at Fenit, where fleets converged from Dublin, Cork and Galway to join with the local fleets from the Kerry and Shannon regions, making a total entry of over 70 cruiser racers. Race officers for the event were Alan Crosbie, Rob Lamb and Liam Dineen.

Joining the fleet, fresh from his triumphant performance at the UK IRC Nationals was Royal Cork's Dave Dwyer in

Marinerscove

. Dwyer took first place in IRC 1 class in the Solent last weekend and also won the RORC (Royal Ocean Racing Club) overall trophy. He ran a very tight schedule to make it back in time to defend his ICRA title, won at Howth last year.

The 70-boat entry experienced a range of conditions on Tralee Bay over three days. 'Magic' is how ICRA Commodore Barry Rose summed up proceedings when racing finished off Fenit pier in the last of seven races in 20-knots Saturday afternoon.

Dave Dwyer held the Class 0 title again this year from Eamon Rohan's

Blondie

.

In Class 1

Rockabill V

(Paul O'Higgins) steered by Cork's Mel Collins, beat Royal Cork Admiral Mike McCarthy sailing

Checkmate

for the honours in the 24-boat fleet with two wins today. Anthony O'Leary's much talked about modified 1720,

Antix Beag

, was third.
Kinetic

(Richard Colwell & John Murphy) represented Howth in Class 2 and won the ICRA nationals in IRC, retaining the trophy won last year in Howth.



Kinetic

won the event against a field of 22 other boats by seven points, scoring a perfect result of 5 first places, and discarding a fourth, leaving them 7 points ahead of the next nearest boat.



Kinetic

also won the WIORA championship again - with all bullets counting and discarding a third, and as a result also won boat of the whole WIORA championships across all classes.



Kinetic

- Colwell & Murphy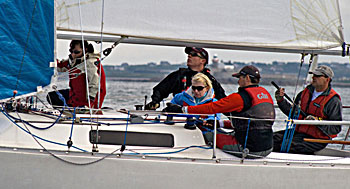 Alliance

- Vincent Gaffney - on helm
Photo Denis Kelleher, TBSC
 
Vincent Gaffney's

Alliance

represented Howth in Class 3 which had a fleet of six boats, and won the ECHO competition at the nationals, while taking second place in IRC.

Alliance

also won the WIORA championship on both IRC and ECHO, which they have now succeeded in winning for the past fours years.

Tralee Bay SC were to be congratulated for a great event which was very well run.

Results >>

Event Photos >>