History will be re-lived at Howth YC this Thursday evening (May 30th) when the 1912-built winner of the 1921 Lambay Race makes a return visit. The 36ft

Ainmara

will be on her way to take part in the Old Gaffers Association 50th Anniversary events in Dublin from May 31st to June 3rd, but the opportunity to return to the scene of her triumph 92 years ago was too good to miss.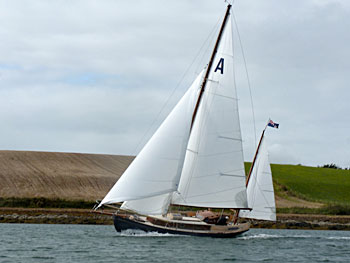 Ainmara

as she is today, showing the sort of powerful speed
which won her the Lambay Race in 1921.
In these Golden Jubilee celebrations, a large turnout of Howth 17s is going to be the star turn, with our most historic class "racing between the bridges" on the River Liffey this Sunday, June 2nd, when the entire Old Gaffer fleet will have transitted the East Link bridge for a seafest and enjoyment of the spectacle of the Howth 17s racing in "arena conditions".
There will also be racing for all boats on Dublin Bay on both Saturday June 1st, and Monday June 3rd. On Saturday, while the Seventeens will be racing from Howth to Poolbeg Y & BC, which will be the centre of the Golden Jubilee celebrations, other classes will be racing from Dun Laoghaire towards the Kish Lighthouse and thence to Poolbeg for the RMS

Leinster

Trophy. This has been presented by the postal workers union to commemorate the hundreds who were lost when the mailboat RMS

Leinster

was sunk in World War I by torpedoes 5 miles east of the Kish in 1918, and particularly the 21 postal staff who were lost while working in the ship's mailroom.

The regatta concludes with a race for all classes in Dublin Bay on Monday June 3rd for the

Asgard

Trophy, specially made by noted shipwright John Kearon from material saved from Erskine Childer's

Asgard

when he was completing the much-admired conservation of this historic craft for exhibition in Collins Barracks. As the fleet on the Old Gaffers Association 50th Anniversary cruise round Britain includes craft which started from the The Netherlands and the Thames Estuary six weeks ago, with other vessels joining along the way, the variety of boats racing in Dublin Bay this weekend will be fantastic, and a star of the show will be

Ainmara

, as she was designed and built in Ringsend by John B Kearney in 1912.

It will be the first time

Ainmara

has been in Ringsend for 90 years, as she was sold away by John Kearney in 1923. Mostly, she has been in the north since, and Strangford Lough sailor Dickie Gomes has ownd her for 47 years - recently he gave her a massive refurbishment for her Centenary last year. Dickie Gomes will be better known around Howth as a very successful offshore skipper, and he held the round Ireland record with the 83ft catamaran Novanet from 1986 until 1993. But he has long had this parallel existence as the owner of a vintage boat, and as you'll see when

Ainmara

comes to visit (she'll be berthed as near the marina bridge as possible, and will be in Howth until Friday afternoon), the old girl is looking very well indeed at age 101.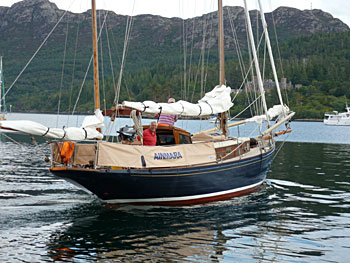 Dickie Gomes, holder (with the 83ft catamaran Novanet) of the Round Ireland Record
from 1986 to 1993, aboard

Ainmara

during her Centenary Cruise to Scotland last summer.
He has owned her for 47 years.
When John Kearney owned her between 1912 and 1923,

Ainmara

was of course a gaff rigged yawl, and she was a familiar sight in Howth, as her owner was elected a member of Howth Sailing Club on 6th May 1920. Howth Sailing Club had been founded in 1895, and its premier one-design class, the Howth Seventeens designed by club Commodore Herbert Boyd, was established in 1898. In 1899, a trophy was put up by Henry Stokes for the new class to race the 16 miles from Howth northward round the island of Lambay and return, passing westward of the smaller island of Ireland's Eye both out and back, and leaving Lambay to port. But with a slowly evolving club programme, the first race round Lambay wasn't staged until 1904. Since then, however, it has become the highlight of Howth's annual season, includes all classes, and is raced in June, though until the 1930s it was raced in early August.

This account of the race of 1921 appeared in the Yearbook of the Humber Yawl Club. A Yorkshire-based organization founded in 1883, it was a focus for enthusiasts who sailed the yawl-rigged cruising canoes of the type made famous by John MacGregor in the Victorian era. The club's members were also supporters of the Yorkshire-based designer Albert Strange (1855-1917), whose speciality was able gaff yawl-rigged cruising yachts with canoe sterns, though he did also design sea-going craft of other types such as the hefty transom-sterned 47ft gaff cutter

Tally Ho

(1910), which won the stormy Fastnet Race of 1927.

The Humber Yawl Club had a member in Ireland, Pat Walsh of the Royal Irish YC in Dun Laoghaire (then Kingstown), who was also an active member of Howth SC, serving on the committee. He was so taken with the canoe yawl concept that in 1901 he had the promising young Dublin boatbuilder and designer John B Kearney - then aged only 21 - to design and build him a 16ft clinker canoe yawl, the

Satanella

, which over several summers he shipped to the Continent to cruise the rivers of France, Germany and the Low Countries in the glowing days of peace before the Great War. His technique was to sail

Satanella

into Dublin port, and get her lifted aboard a ship headed for the river he'd chosen for that summer's cruising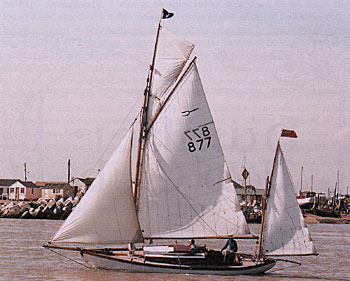 The 25ft yawl Sheila, which placed second in the 1921 Lambay Race, seen sailing in her current home waters of Suffolk. In all, ten of the thirteen boats which raced round Lambay in 1921 are still in existence.
He kept

Satanella

for many years (she is now stored in the Ulster Folk & Transport Museum in County Down), but he also bought the little Albert Strange yawl

Sheila

(25ft) from the marine artist Robert E Groves, from whom in 1922 he was then to buy the larger

Sheila II

. Walsh remained an Albert Strange supporter, as his last yacht was the designer's 7-ton counter-sterned yawl

Venture

. He was also much involved with the Irish Cruising Club (founded 1929), which he served as Honorary Secretary. But down the years the memory of this charming man is best evoked by this account he wrote for the Humber Yawl Club Yearbook of the Lambay Race in early August 1921, which he raced single-handed with

Sheila 1

. In Ireland at the time, the War of Independence had only recently drawn to a close (the truce had been signed on 11th July 1921), thus HSC weren't permitted to fire guns, and used a foghorn to signal the start. But perhaps most intriguing of all, of the 13 boats racing round Lambay 92 years ago, ten are still in existence.
Lambay Race, 1921
By P T Walsh
No-one with an ounce of sea sense would call

Sheila I

a racer. She is a cruiser with a full cruising outfit, and as such I do not know of any boat of her size for which I would willingly exchange her.

In ordinary circumstances, racing does not make a strong appeal to me. But occasionally I feel its thrill, and especially when the course does not involve rounding a series of marks more than once. For this reason the annual race promoted by the Howth Sailing Club 'Round Lambay' has always held a fascination for me, but from various causes I have been unable to compete until the present year.

The handicap entrants this year were of various types and sizes, and from several clubs:-

1.

Maureen

, cutter, Dublin Bay 21 (Sydney Orr) - scratch.

2.

Ainmara

, 9 tons, yawl, (J.B.Kearney), a fine full-bodied cruiser with excellent accommodation, designed and built by her owner - time allowed 2 minutes.

3.

Eithne

, 5 tons, sloop, (Sir W.H. Boyd), likewise designed and built by her owner - 11 minutes.

4.

Gretta

, 6.5 tons (S.T.Robinson), a sister-ship of Mr Strange's Cherub III- 14 minutes.

5.

Marguerite

, 4 tons sloop (W.C.Tomlinson) similar to Eithne - 16 minutes.

6.

Sheila

, 4 tons canoe-yawl (P.T.Walshe) - 20 minutes.

The handicaps were settled just prior to the start, and the corrected times made the handicapper immensely proud of himself.

I had crossed over from Kingstown to Howth on the morning of the race before a strong southwest wind, and though I did not set the mainsail,

Sheila

tramped across in one and a half hours from mooring to anchorage.

The weather conditions before the hour fixed for the start (2.30 pm) were such that a postponement was decided upon, especially as

Lona III

had just come in double reefed and reported that she had experienced heavy weather on the way from Skerries. At 3pm however there was a lull, and the preparatory horn was blown as the fleet streamed out of the harbour. (In this 'interesting' island, we are not permitted to fire guns for yacht races.)



Ainmara

and

Gretta

swaggered about with full lower sail, and

Marguerite

had perforce to set whole mainsail (a new one) or spoil it by reefing.

Maureen

and

Eithne

had tucked in two reefs, and on

Sheila

I had rolled up the equivalent of a reef and a half.

At the start,

Ainmara

was nicely placed and she went off with a clear lead of

Gretta

, with

Sheila

overlapping the latter. The other boats had miscalculated the strength of the flood tide, and being carried over had to return and recross.

As I was single-handed in

Sheila

, I was doubtful of the wisdom of doing the full course, but her good start, and the apparent improvement in the weather, decided me to go on. Ireland's Eye was quickly left on the starboard hand and we were now running almost dead before the wind for the Eastern point of Lambay.



Sheila

is not fitted with runners, but her after shrouds come well aft, and it is not possible to square away the mainboom when running. This drawback (from a racing point of view) and the fact that, single-handed, I could not set the spinnaker, soon left

Sheila

as whipper-in, but the conditions of this run were such that positions in the race mattered nothing, and the sheer delight of sailing overshadowed everything else.

As we left the shelter of the land the short seas became longer and steeper, and the breaking tops were blown ahead in spindrift. A glorious sun in a blue sky across which clouds raced lit up the sails of the yachts ahead, and I saw that though their spinnakers were steadying them somewhat, they were rolling wing-and-wing to an exhilarating degree.

Sheila's

sharp stern here justified itself, and only occasionally was it necessary to pull hard on the tiller.

A glance astern showed me an even more enthralling sight. A string of seven 17-Footers, who started five minutes after the cruisers and were also bound 'Round Lambay, were silhouetted in the sun's path, rising and shooting from crest to crest, and the manner in which they sank between the seas until nothing but the bellying sails were visible and then rose, bows out, on the following sea and shot ahead in a smother of foam, was a sight to gladden the heart of any man.

Lambay was near now, and we encountered a curious cross sea composed of Southerly roll, the Southwest chop, and the backwash from Lambay itself. For the moment I had my hands full to keep

Sheila

on her course, but an occasional glance at the leading 17-Footers showed me they were now almost running under, and after the race one of the owners was to tell me that his boat frequently ran the foredeck under, but that the coaming of his cockpit was admirably designed to shoot off the intruding water.

Shortly afterwards we were under the lee of Lambay, and in the smooth water preparations were made for hardening in all sheets in view of the close haul round the north end. One by one

Sheila's

opponents disappeared round the N.E. corner of Lambay, and the manner in which they were flattened as they came on the wind gave me cause for earnest thought. At last

Sheila's

turn came, and working furiously I got in the sheets as she luffed up. Promptly

Sheila

sat on her side, and I wriggled up on deck to study her behaviour.

The sun had gone behind some black-looking clouds, and the sea had taken on a sullen leaden hue, relieved only by the breaking seas. Nursing her along in the heavy puffs, I found she was lying closer than any of the leading yachts, and I concluded that for the moment I must be favoured with a freer wind. Rounding the N.W. corner of Lambay we commenced to feel the full force of wind and sea, and though the wind was steadier when clear of the high land,

Sheila's

angle of heel was too great for effective windward work.

A decision had to be made at once as to whether I should heave her to, and roll up some more mainsail, or keep her going and shake her through the heaviest puffs. I decided on the latter, and though her list looked rather frightful, no water came over the cockpit coaming, and only an occasional squirt found its way through the hole in the coaming through which the jib sheet led. That matter settled, I was free to look round once more, and I saw that

Ainmara

and

Maureen

had fetched close over to Rush Harbour, and that

Gretta

and

Marguerite

were not far apart.



Ainmara

and

Maureen

crossed

Sheila

a quarter mile to windward, but when I met

Gretta

later I thought for a time I would clear her. This surprised me very much as she is bigger in every way than

Sheila

, but I concluded that with whole mainsail,

Gretta

was sagging to leeward to a greater degree than Sheila. After a few minutes I saw that I could not clear

Gretta

, and as she had right of way, being on starboard tack, I spun

Sheila

round to clear

Gretta's

lee bow, and settled down to test the 'sagging' theory. It proved correct, and I was relieved to find in a few minutes that Gretta was content to go through my lee, which she did in no uncertain way.

At this time the 17-Footers were down to leeward on starboard tack, but I saw it would mean very tight pinching to weather Ireland's Eye - even in

Sheila's

position. Another board on port tack seemed the obvious thing to do, especially as every hundred yards on port tack meant smoother water and consequently greater speed. Round

Sheila

came, and now the question was: 'How about

Marguerite

?' She also, I saw, was standing in on port tack and I knew that the famous Jack Wellington, who was on board her, would not do so unless he thought it would pay. We hammered through the spiteful little chop, spray flying half way up our mainsails and stinging our faces, and then

Marguerite

came about. A careful look ar her told me that

Sheila

had caught her up, but that she would weather us without difficulty. As we approached her I saw the clew of her jib split up, and she was shaken up, while Jack jumped on deck to lower the sail.



Sheila

was now alone, and I put her about for the long leg to the finish. The wind eased off somewhat, and I considered the advisability of hauling the jib a-weather and unrolling some mainsail. Down to leeward some of the 17- Footers were shaking out one of their two reefs, and

Eithne

was setting whole mainsail. I thought, however, that single-handed I would lose more ground in the process than I could make up subsequently, so I kept

Sheila

going. Another burst of sunshine enlivened the scene, to be followed by a rain squall, during which the wind freed us a point or two.

This was bad for

Sheila

as it meant that the leeward boats might now weather Ireland's Eye without breaking tack, and that

Sheila's

last board on port tack was thrown away. Far away

Ainmara

could be seen well listed and ramping along towards the finish,

Maureen

with her two reefs being quite unable to hold her. Judging

Ainmara's

lead, I came to the conclusion that she was safe for first prize, but that it would be a fairly close handicap finish.

The question was whether

Sheila

could save her time from

Gretta

and

Eithne

. I thought she would, especially as both these boats were well down to leeward. On we raced, and I tried to take

Ainmara's

time as she finished, but a rain squall blotted her out. When this burst cleared away,

Gretta

and

Eithne

were observed racing for the line, and as they had pinched to weather of Ireland's Eye, I gave up hope of leading them home. In a last hard puff,

Gretta

beat

Eithne

, and

Sheila

followed across the line.

As we entered the harbour we were told that

Ainmara

had won by one and a half minutes from

Sheila

,

Gretta

being placed third. Thus all three yawls had scored. The honours of the day lay clearly with the 17-Footers, however, as three of them finished before

Gretta

,

Eithne

and

Sheila

, notwithstanding their later start. The 17-Footers are, however, mere shells and their crews were akin to drowned rats, whereas we were quite dry inside our 'oilies'.

The only casualty on

Sheila

was a beautiful racing flag, showing a gold star on a royal blue ground, which Mrs Huntley (wife of Humber Yawl Club Flag Officer) had made and presented to the ship in commemoration of her visit to Ireland in 1911. It had suffered from a gradual but accelerating process of disintegration, and at the finishing line, as a ragged, waggling set of streamers, it bore no resemblance to its former resplendent self.