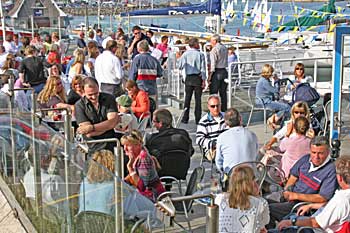 Enjoying the sunshine on the balcony. Etchells and Fireflies returning
from the Helmsmans Championship in the background.
 
The members' Family Day, organised by HYC Vice-Commodore, Gerry O'Neill, had all the ingredients for success and lived up to expectation. As it is mainly an outdoor event the weather plays a big part - and it certainly didn't let us down, with light warm winds and brilliant sunshine, which made the day.

Much of the focus for the day had a nautical theme with a display of boats representing all the classes at HYC, a demonstration of Model Boat racing and a Lifeboat demonstration outside the harbour followed by visits to the lifeboat when it returned to the marina.

It is also a day for the children who were kept entertained by 'Silly Billy', Face Painting and a Puppet Show.

Eats were provided by a Barbecue and the Cork Dry Gin hospitality stand proved very popular and was kept busy throughout the day.

While the gathering ashore enjoyed themselves, more serious stuff was taking place on the water with sailors competing in the final day of the ISA's Helmsmans Championships.

This Summer there has been no let up in activity with events every weekend and the pace will continue with the Autumn League series commencing next weekend.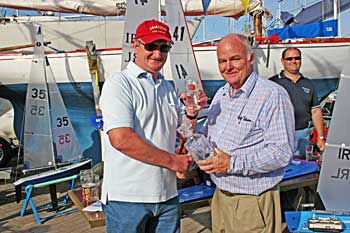 Des Dwyer receiving 1st prize in the One Metres
from HYC Vice-Commodore Gerry O'Neill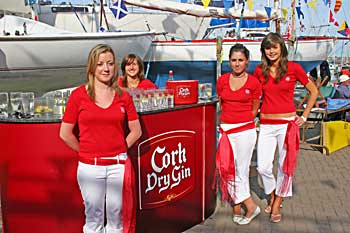 The Cork Dry Gin hospitality stand
with the boat show in the background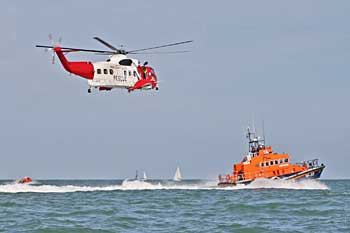 Rescue Helicopter and Lifeboat giving a demonstration