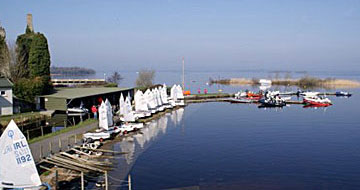 Lough Derg
 
The Optimist regional circuit continued in full swing on 29th & 30th May with the Connacht Championships on Lough Derg. Howth sailors travelled in good numbers and produced some excellent results.

Launching in light airs on Saturday it was soon clear that heavy weather sailors would be frustrated again. After a long first race the breeze picked up and the race officer decided to go for four races as Sunday's forecast was for little or no wind. Despite the late finish the kids still had plenty of energy for water bomb fights, turning the club into a soggy battleground for the evening.

Sunday brought a promising morning breeze, but the forecast proved correct and the wind died during what proved to be the only race of the day. Most of the junior fleet finished on time but only half the senior fleet completed the course as they had a later start. With little or no wind forecast for the afternoon the second race of the day was cancelled and everyone headed in.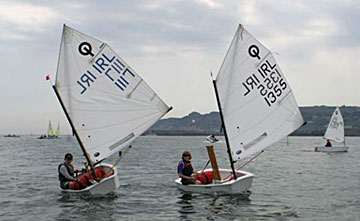 Fergus Flood & Robert Dickson
 
Pride of place for Howth sailors goes to Robert Dickson and Fergus Flood in the Junior fleet, finishing 2nd and 3rd respectively in a very competitive fleet of 65 boats. Robert, following on from his prize winning performance in the Munsters, sailed consistently all weekend with four top five finishes. Fergus capped a fine weekend with two top fives including victory in the third race. Richard Hogan had one top five finish and finished 12th overall.

Next up for HYC was Isabelle Delamer who finished 22nd (12th in Junior Silver) and had an excellent ninth place finish in the third race. Aoife Hopkins finished in 25th, improving as the event went on after getting an early challenge from her brother Daniel who finished in 42nd (30th Junior silver) despite retiring in race 4. Meanwhile Alex Kavanagh kept on battling to finish in 59th (47th Junior Silver).

Howth's only representative in the Senior fleet was Erica Ruigrok who had another good event finishing 16th out of the 59 boats that competed. Erica's top finish was 6th in the third race. Well done to Max Kavanagh who was our sole representative in Regatta Fleet finishing 14th.

The next regional event is the Leinster Championships in Skerries on 12th & 13th June. Let's hope some more of the young sailors in HYC enter this event and get a taste of large fleet sailing.

Full results as usual on www.iodai.com