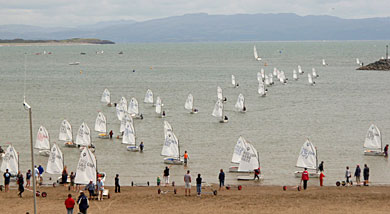 UK Optimist Nationals at Pwllheli - The beach where the sailors launched from
 
Our Optimist sailors have been extremely busy over the past 4 weeks having travelled to Lough Ree, Wales and Fenit.



It all started with the Crosbie Cup held at Lough Ree Sailing Club

over a beautiful sun baked light airs weekend at the end of July. 60 boats sailed in the main fleet with HYC sailors Cillian McGreer, Fergus Flood, Robbie Dix and Nicholas Delamer competing. Cillian and Fergus finished 10th and 11th respectively.

At the same time HYCs Claude Mollard, Isabelle Delamer, Erica Markey and Aoife Hopkins entered the 57 boat Regatta Fleet which combines coaching and racing and proved to be an ideal first entry point for sailing at regattas.



Then off to Wales, Pwllheli Sailing Club, for the UK Optimist Nationals

. A strong squad of 42 Irish sailors made their way to Pwllheli with very poor weather forecast for the week. Despite the 1st day being cancelled and with gale warnings circling for the week, all of the 12 races scheduled were sailed. Indeed, the weather actually picked up and it was an incredible sight to see almost 450 boats sailing away from the sandy beach in the sunshine. Erica Ruigrok, Robert Ferris, Craig campbell, Fergus Flood, and Alex Delamer were included in a 20 strong U-12s squad managed by 3 coaches.
There were 162 boats entered in the U-12 Fleet from 8 countries, which was split into 2 starts. 4 Irish boats finished in the top 15 which illustrates the depth and improvement in the Irish fleet. Whilst not in the money in terms of the prizes our own HYC sailors learnt a great deal in travelling to the event whilst building on their ever expanding network of friends countrywide and indeed worldwide.

Tara Flood and Xander Morisson raced in the Senior fleet (13-15 yr olds). Out of 147 boats from 8 countries they finished a very credible 45th and 78th respectively.

In the Regatta Fleet of 126 boats Nicholas and Isabelle Delamer both gained enormous experience through the coaching and entry level racing provided. Nicholas finished 24th, winning the Regatta Silver Fleet and the Regatta Shield for best first timer at the event.

Nicholas Delamer winning the Regatta Shield at the UK Nationals, with Dai Thomas who ran the Regatta Fleet
Overall, the experience gained was to the benefit of all our sailors the following week at the Irish Optimist Nationals.



The Irish Nationals were held at Tralee Bay Sailing Club, Fenit

, a glorious sailing area particularly when the sun shined! The 199 boats split into Senior (13-15yrs) 68 boats, Junior U-12s 90 boats and Regatta Fleet 41 boats. Racing was held in generally light conditions, although the wind when it arrived on the last day proved too strong and racing was cancelled. 10 races were sailed in the Senior and Junior fleets.

HYC was well represented by Cillian McGreer, Robert Ferris, Xander Morison, Erica Ruigrok, Aoife Hopkins, Mark Condy, Craig and Holly Campbell, Ali and Robbie Dix, Tara and Fergus Flood and all three Delamers, Alex, Nicholas and Isabelle.

In the Senior fleet Tara finished best of the HYC sailors in 7th position which included a race win, Xander was 14th, Ali 17th, and Holly 19th.

In the Junior fleet, Craig was 13th Irish boat, Alex was 14th Irish boat with a fantastic 4th place in the last race and Fergus was 17th Irish boat and 4th Junior Silver. The Regatta was dominated for a while by Delamers, Nicholas and Isabelle, who were lying 1st and 3rd going into the last day. Nicholas held on to win overall whilst Isabelle slipped to 10th. Aoife Hopkins finished mid-fleet, showing her potential with a good number of top 15 finishes.

For full results and more go to:
www.iodai.com
www.kbuk.com/optimist/iocaevents/
www.traleebaysailingclub.com