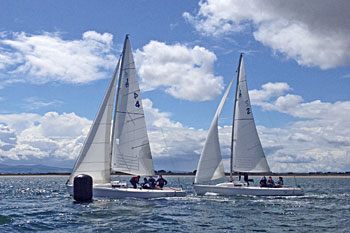 HYC's Sailing Committee have been able to secure the ISA's Sailfleet J80 keelboats in Howth for all of the 2013 sailing season. The 8 boats will be made available to members throughout the year and will be used for keelboat club racing and included in open events as a one-design class (including Dun Laoghaire Regatta, Lambay Races, Autumn League).

The fleet will be incorporated within the club's Adult Sail Training programme and used to introduce young sailors to keelboat sailing. HYC will also use the boats for specific events including the 2013 ISA National Senior Helmsmans Championships, HYC Helmsmans Championships, HYC Family Championships and other inter-club open events.

Details regarding the schedule and arrangements for members to borrow the J80s will be posted early in the new year.

There are opportunites regarding corporate sponsorship of each of the boats for the year - interested parties should contact the Honorary Sailing Secretary.