Championship Results (pdf) >>
 
3 Howth J24's set off for Lough Ree YC last Friday for the Western Championships. With motorway nearly all the way it was an easy trip, followed by launching and an excellent BBQ and refreshments.
 
Four races were sailed on

Saturday

in conditions that covered the full spectrum of weather.

The first race was won by Flor O'Driscoll 'Hard on Port' HYC/RStGYC follow by Mickey McCaldin 'Murder Picture' LEYC in second, to nobody's surprise.

Race 2 took four attempts to get started, even with the black flag 3 boats were BFD, including 'Hard on Port' and 'Murder Picture'. Victory in race 2 going to Andrew Mannion 'Jeb' LRYC with Fergus O'Kelly 'Jibberish' HYC in second.

Race 3 mixed the results even further when a very heavy squall hit the fleet at the top of the 2nd beat. Victory went to Stefan Hyde/ Declan MacManus 'Kilcullen' RCYC/HYC with Stan Bradbury 'Javelin' LRYC in second.
 

'Jibberish' & 'Hard on Port'
 
Race 4 was sailing in force 5+ with most electing for jibs instead of genoas. The jib proved the correct choice with 'Jeb' taking the victory (and the unenviable title of overnight leader) from 'Hard on Port'.

The mental and physical injuries of the day were quickly eased by the hospitality of Lough Ree YC and a very pleasant evening ensued, with some discussing tactics into the wee hours.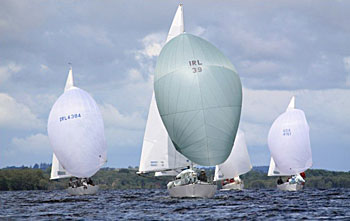 Sunday

dawned bright and too early for most, with a nice breeze, confirmed by the blue flags flying from the masts. There were two races left and a discard to decide where the spoils would go.

On Saturday the right hand side of the first beat had been favoured to good effect, but Sunday was a different day and in race 5 going left paid for 'Murder Picture' who gained the victory, with 'Jibberish' second. The results so far meant that any of the top six could win going into the last race.

A pin end bias in the last race confused some competitors and a few were dizzy shortly after the start. 'Hard on Port' took the victory from 'Jibberish', which result left them tied on points. The championship going to 'Hard on Port' on countback, from 'Jibberish' in second and 'Jeb' in third.

Proof that this was an excellent Championship was that the top five boats finished the series within three points.

See you in LEYC for the Nationals on August 13/14th.