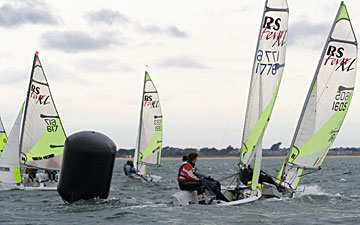 The RS Feva Leinster Championship, supported by Focus Advertising and Inpute Technologies, was held in Howth this weekend and while two races were completed, strong winds prevented the completion of the six race series.
 
With winds of 12 knots on Saturday morning, racing commenced in Howth sound. Louise Flynn Byrne and David Johnston started where they left off at the ISA Youth Nationals earlier this month and lead the 15 boat fleet ahead of Conor Totterdell and Stephen Craig of the RStGYC.

An error in rounding the windward mark ensured that Conor and Stephen won the first race, HYC's Claude Mollard & Jennie Harris were second and HYC's Nickie Delamer and Conor Howard came third.

With winds strengthening to 18 knots, the fleet commenced the second race. Strong winds provided both onlookers and sailors with some exciting sailing, particularly under spinney.
 


 
With gusts of over 24 knots the race offer took the decision to shorten the course and allowed the sailors to return ashore. Race 2 was won by Louise & David, with Claude & Jenny in 2nd place and Conor Totterdell and Stephen Craig in 3rd.

After two races the top of the leader board was;



| | | | | | |
| --- | --- | --- | --- | --- | --- |
| Place | Sail | Helm | Crew | Club | Net Points |
| 1 | 1604 | Conor Totterdell | Stephen Craig | RStGYC | 4 |
| 2 | 2256 | Claude Mollard | Jennie Harris | HYC | 4 |
| 3 | 2964 | Harry Johnson | James Hickey | RIYC | 11 |


Sunday morning witnessed gusts of 45 knots and the race officer took the decision to cancel the remaining races. With only two races sailed, the event was deemed cancelled. It is the intention of the organising committee and the Feva class to reschedule the event in HYC later this summer.

| | |
| --- | --- |
|   |   |

 
The Feva event provided an opportunity of testing Twitter as a means of broadcasting updates of the event for those ashore.

Periodic updates were issued and successfully displayed on screens in the Club house and on the web via the HYC Twitter account.

The facility was successful piloted and is now available for use during all open events.

The HYC Feva Class would like to thank the large group of volunteers who helped plan and run the event, both on and off the water.
 




---