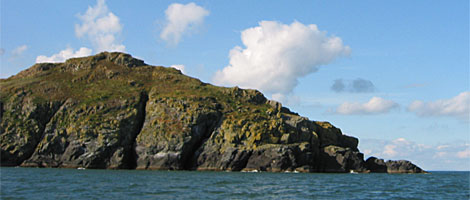 Approaching the Nose of Lambay in mid-October
on board Harry Whelehan's

Sea Dancer
The world's newest gannetry is now well established on the north coast of Lambay. Back in 1989, it was Des Nolan of Malahide who first noted that gannets - they're pelicans, not seagulls - had become established on the Stack at Ireland's Eye. They were soon thriving, and thus we had the first known gannetry within city limits. Not any more, however. The gannets are still very much there. But the city limits have been moved, so now the Ireland's Eye gannets are living in Fingal.

And they like it. Since 2006 and probably earlier, another Fingal colony has been developing on Lambay between Swallow Cove (aka Saltpan Bay) and the Nose. It's reckoned to be an offshoot of the Ireland's Eye settlement, which has become so crowded that with the growing confidence of increasing numbers, the gannets are also on the cliffs of the main part of the Eye.

They prefer to nest on stack rocks as protection from rats and other predators (Lambay has Ireland's only colony of black rats), but as they become established, the gannets can push their boundaries. The new nesting site is narrowly split from Lambay. It's reckoned that any self-respecting rat could get across if hungry enough, but Lambay probably offers them enough dining options already.

There's little hope of expecting any info about this new natural phenomenon from any of the thousand or so sailors in the Lambay Race each year. As far as they're concerned, they're just struggling in flukey winds to get past the "ducks on a rock" close inshore on Lambay. Meanwhile, more thoughtful observers wonder just how far the gannet colonisation of Ireland's Eye can proceed before it radically alters the island.

Many Howth boat people will know of the island at the north end of Lough Derg on the Shannon system where a first pair of cormorants started to nest within living memory, and soon an entire cormorant colony had taken over, killing every tree on the island with their guano. For the throughput of a gannet/pelican is prodigious. As Des Nolan noted back in 1989:

What a wonderful bird is the pelican,
Whose beak can hold more than his belly can.
He holds in his beak,
Enough food for a week,
I really don't know how the hell he can.
A spotlight of Autumn sunshine on the world's
newest gannetry on the north coast of Lambay