For some months Vice-Commodore Peter McKenna has been looking for a second Race Committee boat. After much searching he found a Mitchell 31 in Dover which will meet our needs.

The boat is now ours and arrived by road trailer on 17th May.

She will be used for Dinghy Racing, including the Laser Frostbites and as a second Committee Boat when required for Cruiser Racing.
 
 


Photos of

Sea Wych

below ....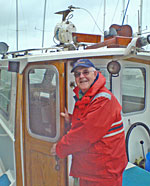 Vice-Commodore Peter McKenna