Previously Regional Operations Manager for Sunsail in the Caribbean with responsibility for 450 yachts, 250 staff, 310-berth marina and onshore facilities, Nic has a wealth of experience in the marine leisure sector and also holds RYA sailing instructor and powerboat handling certificates.

Originally from Birmingham, he is an honours graduate in Tourism Business Management from the University of Leicester and started his career with Britannia Sailing as Operations Manager before moving to Sunsail with whom he has held several management positions.

Thirty-five years old and recently married, he will join HYC in mid-September to allow for a smooth transition with Rupert.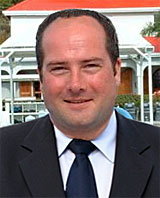 Nicholas (Nic) Parton