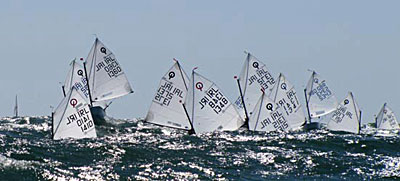 (L-R) chasing overall winner 1410 Daire Cournane , 1375 Richard Hogan,
1372 Isabelle Delamer, 1315 Fergus Flood, 1341 Ewan McMahon
 
From August 16-21 WHSC in Dunmore East hosted the biggest event of the year in the Irish Optimist calendar, The National Championships. Over 200 sailors entered from Ireland, the UK, Finland and Bermuda. Congratulations to the 15 HYC sailors who participated, they had an outstanding event with prizes gathered in numerous categories.

Weather conditions varied over the week with winds generally picking up from morning to afternoon. PRO Phillip Cowman managed to complete 11 of the 12 scheduled main fleet races over the five days. A big feature of the event was the swell in Waterford estuary; waves peaked at up to four metres on the Friday with boats disappearing and reappearing again. Indeed, the big seas left some sailors (and spectators) feeling the worse for wear but generally proved to be an exhilarating experience for all concerned.

HYC was represented in Senior, Junior and Regatta fleet and the club should be very proud of the performance of its young sailors.

In the

Senior fleet

of 62 boats, HYC had two representatives in the Gold Fleet. Sean Waddilove had a memorable event finishing 5th overall (3rd Irish) and winning two of the eleven senior races. Erica Ruigrok also did very well finishing 21st (17th Irish).The overall winner was Peter McCann of RCYC.
Our largest representation was in the

Junior Fleet

of 85 entries.

Our Junior Gold sailors were again to the fore with three HYC sailors in the prizes, Robert Dickson was 3rd (2nd Irish), Fergus Flood 4th (3rd Irish) and Richard Hogan 9th (5th Irish).

Aoife Hopkins was a little further back in 14th (8th Irish). Robert, Fergus and Richard won the Junior Team prize for the club as the three best performing sailors.

Robert also won race 10 preventing overall winner Daire Cournane(RCYC)from making a clean sweep of the race trophies.

(Top row L-R) Fergus, Robert, Ewan
(Mid L-R) Isabelle, Aoife, Isabel
(Bottom L-R) Max, Alex & Hugh
 
The

Junior Silver

sailors were also in great form with the ever improving Ewan McMahon winning the Junior Silver category closely followed by Isabelle Delamer 4th and Anna Potterton 5th, both have now been promoted to the Gold fleet.

Congratulations to all these Junior sailors who are all ranked in the top 35 and hence qualify to participate in the Irish trials in the spring.

Our other Junior Silver sailors Isabel Cahill, Daniel Hopkins and Alex Kavanagh also put in fine performances and will certainly remember the waves for some time to come. Well done.
 

(L-R) Robert, Fergus and Richard
receiving the Junior Team Trophy
 
We had three

Regatta Fleet

representatives namely, Max Kavanagh, Megan Cahill and James McMahon who all sailed very well in the tough conditions. Congratulations to Max on winning the regatta fleet prize for sailors aged 9 or under.

Senior results can be found at www.iodai.com/media/nase10os.html

Junior results can be found at www.iodai.com/media/najun10os.html

Full year rankings are now on the IODAI website at www.iodai.com/media/junrank2010natos.html which shows that our four Gold fleet sailors finished the season in the top ten of the national rankings.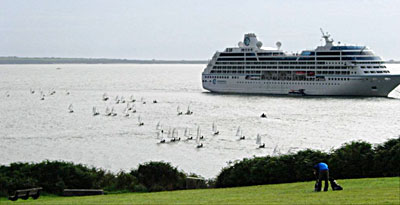 Dunmore East on the last day with ferry in port
 
Finally, a big thank you to all in WHSC for a very enjoyable and successful event. Race management was excellent and the organisers were well supported by the local members who volunteered for numerous tasks from slip duty to sandwich making.