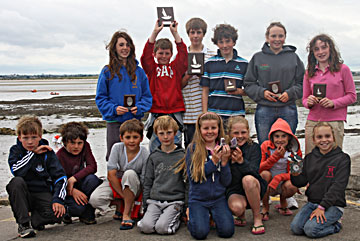 Some of the large contingent of HYC junior sailors who participated in SDC regatta
 
HYC sailors and supporters travelled in large numbers to Suttons Dinghy Club's annual regatta on Sunday 25th July, with HYC providing over 30 competitors in the Optimist, Feva, Pico, Laser, IDRA and Optimist Novice fleets.

With near perfect sailing conditions, HYC sailors came home with a large number of prizes. Congratulations to Claude Mollard and Ben Jennings in the Feva class with Louise Flynn Byrne and Jenny Harris securing 2nd on a tie back from Conor Howard and Erica Markey.
 

Alex O'Grady winner of the first Optimist main fleet race. Presented by Mike O'Neill, Commodore SDC

RS Fevas in action
 
In only his second optimist regatta, Alex O'Grady was piped into 2nd in the main fleet, also on a tie back from MYC's Cian Buckley. With only 0.25 points separating the first four places, HYC's Ewan McMahon was unlucky to finish in 4th, while Isabel Cahill finished in 5th and Jamie O'Grady in 6th.

Lewis Eickholt was 2nd in the Laser Radial and in the Pico class, Hope Blandford was 3rd . Andy Sargent sailing in the IDRA 14 finished in 2nd

Congratulations to large contingent of Optimist sailors, many sailing for the first time outside HYC. Prize winners included Aisling Cassidy in 5th and Lilly Jennings in 6th.

In addition to thanking our hosts for a very enjoyable day on and off the water, I'd also like to thank the parents who assisted in transporting the large fleet of optimists and Feva's to and from SDC on Saturday and Sunday and to the drivers and crew of the two HYC rescue boats.