| | |
| --- | --- |
| Ruth Lacy - 1st Junior Silver Fleet | Daniel Hopkins - 4th, Gold Senior Fleet |
| | |
| --- | --- |
| Jamie McMahon - 2nd Junior Gold Fleet | Jonathan Sargent - 3rd - Junior Silver Fleet |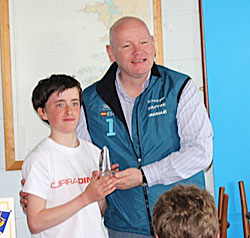 Max Kavanagh - 3rd, Senior Silver Fleet
| | |
| --- | --- |
| Sophie | Kirsty |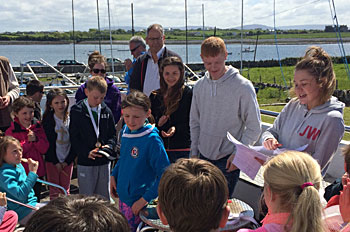 Aoife
Into the west went the 22 Howth oppie sailors kindly bringing their parents with them. Most left Dublin early Saturday morning to do the short drive to Galway. Leaving the warmth and Sunshine in Dublin they arrived in Galway to cloudy skies and lots and lots of wind !

Two races were completed in extremely difficult conditions in main fleet on Saturday. Credit must go to those who actually managed to finish a race.

During the second race the finish boat drifted off station and many sailors couldn't find the finish line resulting in chaos for the results team ashore.

Howth regatta fleeters Aoife McMahon, Luke Turvey, Johnny Flynn, Sophia Crawford, Mark O'Dwyer, Andrew Evans, James Vyse and Alice Lacy were entertained ashore by the coaches including our own Mark Condy. Sarah Evans had fractured her foot which left her hopping for the weekend so unfortunately couldn't sail. Howth sailors featured well in main fleet and Jamie McMahon was leading the Junior fleet going into Day 2.

Day 2 dawned also with a lot more wind than expected as light weather had been promised. The regatta fleet launched and sailed close to the shoreline completing no less than 7 races. Howth's top finisher was Aoife McMahon 2 nd overall a tremendous result in the 26 boat fleet. Well Done Aoife ! Special mention must go to Luke Turvey and Johnny Flynn who finished 5th & 7 th respectively.

Meanwhile in main fleet the intention was to finish 4 races but in race 1 the fleet sailed to the wrong "windward" mark resulting in an abandonment. Despite this disappointment the final race brought amazing success for Howth sailors. Daniel Hopkins won the senior race by half a leg cementing his final 4 th position overall.

Junior fleet sailor Ruth Lacy was the one capturing everyone attention she won the final race by a good margin a fantastic achievement for someone who only made the move to main fleet last year. Ruth won the Junior silver prize and the future looks bright for this young sailor, the more seasoned sailors had better watch out !

Jamie McMahon having sailed a terrific event but was disappointed with his last race and had to settle for 2 nd position overall. Not too far behind was his sister Eve in 10 th position and Ruth Lacey in 14 th ( 1st Silver). Johnathan Sargent was 3rd silver and Dylan McEvoy was exceptionally unlucky not to take 5 th Silver ( another sailors redress meant he narrowly missed out). Hugh Turvey, Kirsty Quinn and Sophie Dix all sailed really well in their first main fleet event and posted some great individual results.

In the senior fleet Max Kavanagh ( 3rd Silver), William Lacy, Sam Crawford and Jack McMahon were all sailing as seniors for the first time in what had been a baptism of fire the day before. Sea sickness was a feature of the event and left Shane O'Brien disappointed as he had to swop an 8 th final race for a retirement instead and unfortunately cost him a silver prize.

Well done to all the Howth sailors who all made great progress this weekend and will certainly remember windy Galway for a longtime to come !