At the presentation of HYC's charity funds to the Howth Chamber Music's Violin Project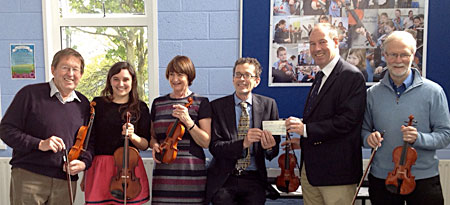 (L-R) Winkie Nixon (HYC historian), Ciara Cavanagh ( Music Teacher), Joanna Crooks (Musical Director, St Agnes Orchestra), John Chambers (Principal, Scoil Mhuire, Howth), Brian Turvey (Commodore, HYC), and Jimmy Kinahan (St Agnes Orchestra).
Photo: Trish Nixon
The fund-raising show about the story of Howth sailing in the club at the end of February came in on target with

1,600 raised for the St Agnes Orchestra. And it has proven to be a case of casting your bread upon the waters ...

For the next Orchestra Board Meeting in April decided that half the sum raised should come straight back to Howth. They ear-marked it for the Violin Project organised by Howth Chamber Music, which is linked with the St Agnes group.

Though relatively new to Howth, the Violin Project is successfully encouraging young musicians in an already well-established programme in Scoil Mhuire, with a newer offshoot in the Burrow National School.

Recently, a very pleasant ceremony in Scoil Mhuire saw Brian Turvey, Commodore Howth YC, present the cheque for

800 to school principal John Chambers in the presence of Joanna Crooks, Musical Director of the St Agnes Orchestra, and Maria O'Dowd of Howth Chamber Music.

The sailing group were then given an entertaining demonstration of the remarkable way in which the Violin Project is encouraging latent talent for music in the children, tutored by the enthusiastic and inspirational music teacher Ciara Cavanagh.

Howth Chamber Music has a concert of works by Elgar, Faure and Dvorak in the Church of the Assumption, Howth this Saturday evening (May 24th) at 8.30pm.