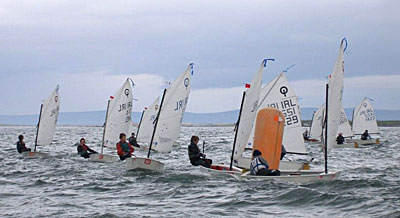 1355 - Robert Dickson - rounding weather mark
 
Tralee Bay Sailing Club, Fenit, Co Kerry was host to the Optimist Munster Regional Championship on 25th & 26th June. Howth was yet again well represented in all fleets with a total of 14 sailors making the journey south.



Day 1

, the fleet of nearly 100 boats was presented with the most difficult conditions, winds of 22-27 knots blowing from the south west coupled with a large swell. The Race Officer did an excellent job and managed 3 back to back races with very tight and exciting racing. For many sailors it was more about bailing than sailing as full concentration was required to avoid a capsize , nose dive or a swamping.

The

Regatta Fleet

stayed ashore and was entertained by a great squad of instructors. The unfavourable conditions also kept a number of the younger Junior Fleet on shore.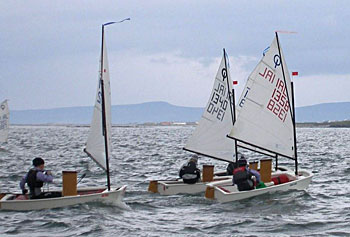 Day 2

, saw more favourable conditions, 12 knots of variable winds greeted the fleet although some swell remained. All sailors were keen to launch and most got their chance on the water. The

Regatta Fleet

raced 3 races close to the shore.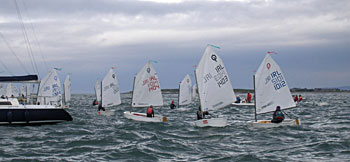 Yet again the performance from Howth sailors was terrific. Congratulations to Robert Dickson 2nd, Sean Waddilove 4th and Richard Hogan 5th in the Senior Gold Fleet. Nicole Hemeryck won the Senior Silver Fleet and Erica Markey earned 5th prize.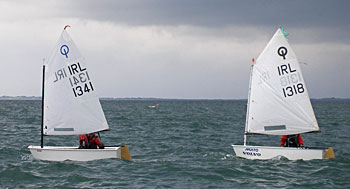 1341 - Ewan McMahon, 1318 - Max Kavanagh
 

1403 - Jamie O'Grady
 

1404 - Alex O'Grady
 
In the

Junior Fleet

Howth sailors also did well. Ewan McMahon was 6th and Issy Delamer 9th in the Gold Fleet. Daniel Hopkins had a great regatta and came 4th in the Silver Fleet and 15th overall. Alex and Jamie O' Grady were just outside the top 20.

The other Howth sailors who braved the seas in Tralee where Aoife Hopkins, Alex & Max Kavanagh and Jamie McMahon.

Congratulation to both Nicole and Daniel who were promoted to the Gold fleet following their second top 5 result this season.

See the IODAI website for full results at www.iodai.com

Also great photos can be found at www.cubeimages.com