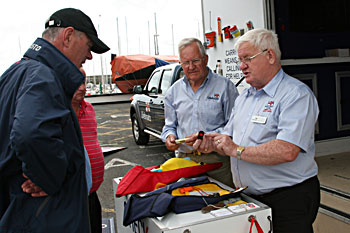 Checking Lifejackets



(L->R) Pat MacLean - Sea Safety Road Show Supervisor, Ireland & Scotland
John P. McKenna - Life Boat Sea Safety Officer, Howth Lifeboat Station
 
The RNLI Roadshow Trailer was in Malahide on Saturday 3rd July and in Howth on Sunday 4th July. Over the 2 days a number of sailors brought their life jackets to be checked.


Breakdown of 78 Lifejackets with faults - by John P. McKenna
Total with out of date inflation capsules
36
 
Total with Mk3 Head
4
(see

Note 1

below)
Total Rusty Cylinders
18
 
Total Lifejackets fired
6
 
Total Lifejackets with Cylinder loose or out
9
 
Total Condemned
5
(Large hole in Lifejacket etc)
Total without Thigh/crotch straps
61
 
Note 1

: There is a notice saying that they were on recall due to fault, by manufacturer
 
While Sunday was a beautiful, bright, sunny day at Howth, the winds got up to force 6 to 7 Westerly in the afternoon. A few speedboats ventured out and it wasnt long before they got into difficulty. Both the Inshore and All Weather lifeboats were called out.

One speedboat ended up on the beach at Portmarnock and the other - a 15 foot speedboat - was drifting without power towards the East Pier. Two people were taken off the boat - one with a dislocated shoulder. It then flipped over and the All Weather lifeboat took it in tow upside down.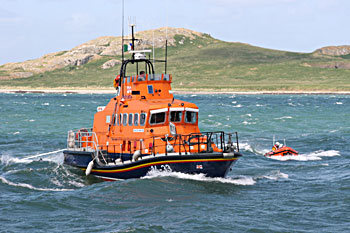 The All Weather lifeboat towing the submerged speedboat into Howth harbour
(accompanied by the Inshore RIB)
The unplanned activity enabled the lifeboat crews to demonstate a rescue in full view of the spectators crowding the harbour area.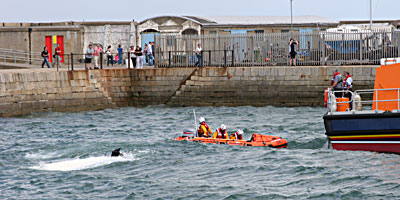 The Inshore RIB takes over the tow from the Allweather boat