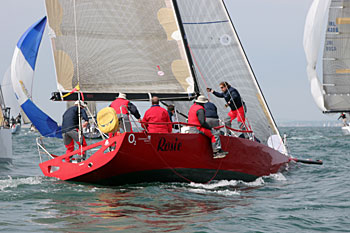 Rosie
 
HYC's Rosie brought home a great win from Cowes, winning Class 2 and 3rd Overall in the British IRC National Championships on 13th - 15th June.

The win is a tribute to Rosie's owner Roy Dickson, who is a true inspiration to the crew - and many other HYC members I'm sure! Unfortunately Roy couldn't make it to Cowes for the event but is always there in the background supporting the crew and helping with any challenges that arise! Roy puts so much in to make Rosie a magic boat - she is an absolute pleasure to sail. It has given me great privilege to skipper the boat and her crew for Roy over the last couple of seasons.

The event was tough to say the least with three tricky days racing in the Solent; eight races in total with one discard. What made Class 2 interesting was not only the variety and quality of the competition across the biggest fleet of the event but the clash between the two Corby 36 boats. Needless to say designer John Corby revelled in the fact that the class win came down to a duel between Rosie and Quokka 7 - a slightly modified version of Rosie's design, which is the original 1994 Mustang Sally hull design.

There were several winning factors for Team Rosie I believe; our very fast sails, designed by Des McWilliam from One Sails. Our crew is a real team with a brilliant attitude and a very strong hunger to win! The team are: Paul Manning, Shane Mulhall, Mick Murtagh, Fred Connolly, Darrell Reamsbottom, Des McWilliam, Nicky Smyth and Mark Downer. Jim Barden & Roy are also key members of the team but couldn't make this event unfortunately.

We all have a great time together which really helps us to do the business on the water. The commitment from everyone is amazing. Rosie is such a great boat to sail on with a super bunch of people. Having Des on board was a real help and Rosie's builder Mark Downer (from Cowes) did a fantastic job on tactics - his local knowledge being key. Needless to say Nicky's driving was second-to-none and the crew work generally was top drawer. Finally our owner - Roy is an amazing guy and without him we'd not be where we are. Thanks Roy.