Irish Wheelchair Association Presidents Lunch at Howth Yacht Club
Author: Roslyn Byrne
Posted on: 28/6/10
Print Version
---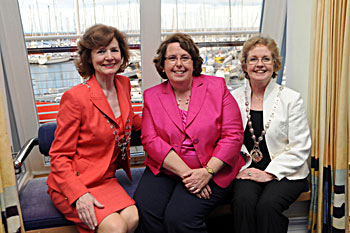 (L->R) Ms Breda McCabe, President Soroptimist International Club of Dublin
Ms Kathleen McLoughlin, CEO, Irish Wheelchair Association
Pat Braiden, National President, Soroptimist International Republic of Ireland

photo: Roslyn Byrne
 
Kathleen McLoughlin, CEO of the Irish Wheelchair Association was presented a cheque for

5,200 after a very enjoyable Presidents Lunch held in Howth Yacht Club.

This money will go towards the "Independent Living Unit" at the headquarters of the Irish Wheelchair Association in Clontarf, Dublin. This unit allows people in wheel-chairs the opportunity to develop the skills required to be independent and live on their own.

This cheque will go toward the fit out of the final unit for a remote-controlled doors leading out to the communal patio area and organic garden.
---