Euro Car Parks presents a new Pico to Howth Yacht Club
Author: John Deane
Posted on: 5/7/10
Print Version
---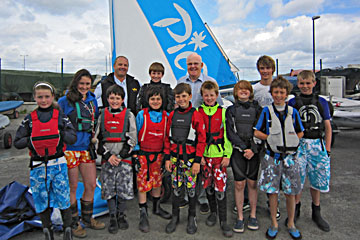 Dave Cullen, MD Euro Car Parks presents a new Pico
to the Commodore, Peter McKenna
with a group from the junior sailing course
 


Euro Car Parks

today presented Howth Yacht Club with a brand new Laser Pico to be used for junior sailing. At the handover, Dave Cullen commented ...

"We are delighted to support junior sailing in Howth Yacht Club and are ever keen to promote and encourage new children into the sport.

This Pico will enable parents to try their kids out in sailing without having to purchase a boat and it will be available to rent at a nominal charge for the summer courses.

It is essential that the life blood of our Club, sailing, continues to grow and we as a Company are proud to support the growing activity in this vital area".

Euro Car Parks were earlier this year honoured as Irish Independent Best Workplace in Ireland 2010 and have recently opened their latest 900 space car park at The O2 in Dublin.
---