Howth's Gordon Maguire Wins Sydney-Hobart Race 2011
Author: W M Nixon
Posted on: 30/12/11
Print Version
---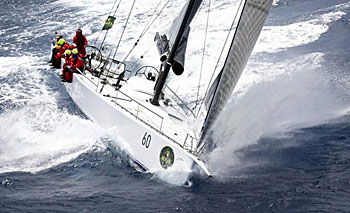 Stephen Ainsworth's

Loki

won the Tattersall's Cup, First IRC
 
Gordon Maguire has won the Rolex Sydney-Hobart Race, a high point in his career as a leading international professional sailor now based in Australia.

Twenty years ago, the young Howth helmsman was one of the key players in the Irish team which won the Southern Cross Trophy, the international offshore series which culminated in the Hobart Race.

For someone with Maguire's remarkable talents, Australia offered the perfect arena and base, and he increasingly focused on the active scene down under. But he also continues to sail worldwide, his most recent high profile appearance in Ireland being three years ago when he was lead helm on Mike Slade's 100ft Leopard establishing the course record in the Round Ireland Race.
 

Gordon Maguire
 
Since then, his career path has been as sailing master with Stephen Ainsworth's Australian team. Ainsworth acquired some note in Europe back in 2007 when his mini-maxi Loki, powering along in the stormiest Middle Sea Race yet experienced, broke the rudder and became a total loss on the northwest coast of Sicily. That iron shore would rank high on any world listing of least desirable places to be shipwrecked, and some advanced yacht racing equipment subsequently turned up in unlikely mountain sales.

But at least no-one was hurt. And a new Loki, a 63ft Reichel Pugh design, was already on the drawing board. To get the best from the new boat, Ainsworth and his ace navigator Michael Bellingham signed Gordon Maguire (48) onto what became a dream team. Since 2008, Loki has won just about everything of significance in the Australian eastern seaboard offshore racing scene except the annual thrash to Hobart, which Ainsworth has been trying to win for more than a dozen years.

The 628-mile classic - staged annually since 1945 - can be a tricky one. You go like the hammers of hell on rough ocean for upwards of 550 miles, and then the final approach to Hobart up the narrowing 60-mile ria of the Derwent River sees the winds all over the place, and often non-existent at night.

The new Loki (named for the Norse god of mischief and trickery) invariably finished among the leaders, but then saw her corrected time win for the Tattersall's Cup - Australia's premier offshore trophy - being snatched away by some smaller boat which came creaming up the Derwent on the afternoon breeze.

But Ainsworth and Maguire have been very close to the cup for the last two years, and today (December 30th) they struck gold. It was the turn of the smaller boats to be becalmed in the small hours. After hours of the clock ticking painfully slow, Loki was declared winner of the Tattersall's Cup. The biggest box of all had been firmly ticked in gold.
Christian louboutin uk sale
Christian louboutin Boots
Christian louboutin uk
parajumpers long bear
parajumpers outlet
parajumpers parka
parajumpers sale
---