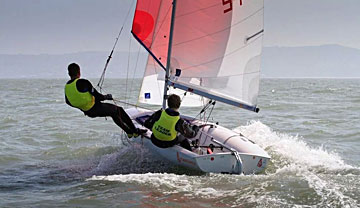 Team Dickson Waddilove Qualify for ISAF Worlds

The ISA Youth Nationals was held in HYC over four days during the easter break. This is the biggest and most important regatta of the year for us in Ireland as it is our qualifying event for the ISAF Youth Worlds in Tavira, Portugal from the 12-19 July. Only two boats can qualify for this regatta, one boy boat and one girl boat under the age of 19. But before competing for this place we had to pre qualify. The ISA nominated a few overseas regattas where we had to finish in the top 40% of all boy boats under the age of 19. Our pre-qualifying regatta was in Brest, France where we we finished 2nd out of 18 boys comfortably meeting the criteria. It was now time to focus on the ISA Youth Nationals.

The first day of the Youth Nationals we had 13-15 knots and reasonably flat water. The day went almost perfect as we scored two 1st and a 2nd putting use in the lead for the second day.

The second day was a bit more difficult for us as the wind had dropped since the previous day to about 5-7 knots and choppy waters. Us being one of the heavier crews struggled a bit in the chop but still managed to score a 1st a 2nd and a 4th still holding our lead comfortably over second place with a 7 point gap.

Unfortunately the third day was cancelled due to heavy winds of 25 knots plus. We would have liked to get out in these conditions to try extend our lead over the fleet but we we went into the final day with a nice 7 point lead.

For the final day we had less wind of about 12 knots so racing went ahead as planned. We had three 2nds and secured our 1st place finish after the second race so had one to spare!

We finished with a 9 point lead and earned ourselves a place on the ISAF Youth Worlds 2014 team. All our training and hard work paid off nicely.

This will be our second year at this prestigious regatta and hope to use our experience to improve on our result from last years regatta. We also qualified for the World Championships in Germany and Junior Europeans in Poland later in the Summer.

Thanks to HYC for the brillant racing and organising of the regatta.