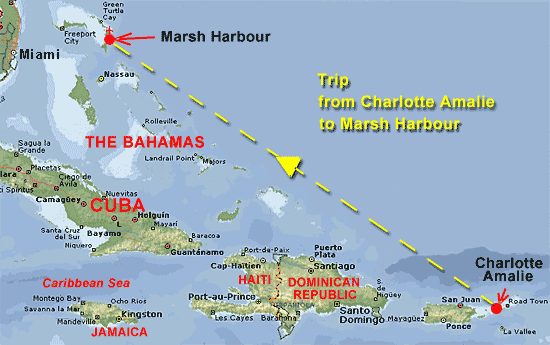 Our next trip - 7 days - from Charlotte Amalie to Marsh Harbour
I am sending this epistle from

Charlotte Amalie

, the main town of St Thomas in the US Virgin Islands. The time has come to depart from this corner of the earth and head via the Bahamas to the East coast of America.

At the moment we are awaiting a decent weather window to undertake a 7 day passage direct from here to

Marsh Harbour

in the Abacos ( a small island chain in the Bahamas).

We have retained the professional services of the weather forecaster, Chris Parker, (a very popular and reputable forecaster in this part of the world,) to advise us on when best to leave St Thomas and he will continue to update us throughout the passage. This will be achieved with the help of our SSB radio (single sideband radio). We have already been advised by him to sit tight here in Charlotte Amalie until Monday next and we know why!

There are winds gusting between 35-45 knots howling through the Virgin Islands at the moment. The seas have mounted in tandem with the wind and the swell is currently between 4-5 meters. But have no fear, the holding is excellent in this anchorage, so all is well aboard

Safari

.

We have lots to do to prepare the boat for the United States. Firstly, we have to sort out our holding tank for toilet waste. This is obligatory in the US. There is one on board

Safari

but it never had to be activated in Europe or in the Caribbean.

Then we have to buy a transformer to convert the American 110 volt to our 220 volt power system.

We also have to change from butane to propane gas. Our little blue Camping Gaz bottles are no longer operational but thanks to our friends, John and Dee King of yacht,

Woodfield II

, in Gibralter, we don't have to buy new cylinders. They gave us a present of both of their 20 lb American gas bottles in Gib last year. Thank you again, guys!

We had to buy a DVD player for region 1 so that we can continue to enjoy the occasional film on board and finally as our Irish cell phones no longer have network coverage since our arrival in the Virgin Islands, we had to buy an American mobile. I have been able to chat with my brother Nick and sister-in-law, Anne in New York for buttons and we are back in touch with family and friends in Ireland and Europe.

Provisioning the boat for the trip is not a problem after the logistics of provisioning for the 3 week Atlantic crossing. This time there will be only 2 mouths to feed for one week - a lot less daunting!

You might be wondering why we have decided to take such a long direct route. It is after all 830 Nautical miles from St Thomas to the Abacos. Originally, we were heading for

Puerto Rico

where our friend, Regina Martin, had hoped to join us. Unfortunately, Regina had to call off her trip so we revised our plans as a result.

After a careful study of the charts and Cruising guides (which we were lucky enough to pick up second hand through the Cruiser nets in Grenada and St Maarten), we decided that life was too short to suffer the stress and aggravation of crossing the notoriously dangerous

Mona Passage

between Puerto Rico and the Dominican Republic and of trying to find islands in the Bahamas which had enough water for our deep draught of 7.2 ft. (The water around most of the islands in the Bahamas is very shallow and not that suitable for a deep draught boat like

Safari

).

After making out a detailed passage plan which would take us safely from here to the Abacos, we would have to spend 10 nights at sea - one 3 nighter, one 2 nighter and 5 one nighters! So the simplest decision was to avoid all the potential hazards and head straight for our destination.

There will only be the two of us on board but we feel well able for the job. We know from the Atlantic that we are comfortable spending long periods at sea. Up to now, 4 day passages are the longest we have undertaken on our own but what is an extra 3-4 days to such intrepid sailors as ourselves!! (We are probably amongst the biggest cowards on the ocean but cowards tend to live longer in this game!!)

We will have the comfort of our personal daily weather forecast and that is the most important thing of all. I don't like standing watch on my own in the dark but we intend getting most of our sleep in during the day and it is the lesser of two evils. I will cope as best I can as I always do!!



But what of our 15 weeks in the Caribbean?
It has been an absolutely wonderful experience and well worth the hassle and expense of the Atlantic Crossing!

Thank you again, Cyril, Eddie and John for helping us to get to this sailing Paradise.

There are about 34 islands in the entire chain and we have visited 11 of those.
As we definitely plan to return to the Caribbean for a few seasons after our American experience, we still have lots left to explore.

I have already written about the Windward islands so I won't bore you again but

Grenada still remains our absolute favourite

because it is still very "Caribbean" and yet has been sufficiently influenced by American and European standards to make it a most enjoyable place to stay.



The French Islands: Martinique, Guadeloupe



We were really excited at the prospect of experiencing the French islands.

Anse Mitan in Martinique

was a delight - a good anchorage and an even better atmosphere ashore.
It was like being in a small French seaside town. Lots of French spoken, lots of little elegant boutiques and bistros with "crepes flambees" and "moules frites" featuring on most menus.

When we hit the supermarket "Carrefour", we thought we were in heaven and went mad buying all our favourite little treats.

It was very expensive compared to the other islands but we were happy to pay for our cheeses and cold cuts and wonderful fruit and veg.

Orange coloured oranges were a particular delight!

On the ferry to Fort-de-France Martinique
However, the "frenchness" was just paper thin. When we ventured across the bay in the ferry to

Fort de France

, the capitol, we were disappointed to find it looked more like

Castries

( the not- so - nice capitol of St Lucia) than La Rochelle. The same applies to

Guadeloupe

.

We were thrilled with the anchorage in

Des Haies

on the northwest coast. It's a very pretty fishing village and obviously a popular holiday destination with the French but one of the main towns,

Pointe-a Pitre was really run-down

and a big disappointment to us after having travelled a fair distance to visit it!
However, it did have a very colourful spice market.

Our great Irish friend, Therese Boisse, lived on Goudeloupe for 2 years so I was dying to visit it on her behalf!!

I am really looking forward to comparing notes with her when I get back to Ireland.

Spice market in Pointe-a Pitre, Goudeloupe
Dominica



Nestled between Martinique and Goudeloupe is

Dominica

- a relatively unspoiled island of great natural beauty. It is said that if Colombus came back today, Dominica is the only island he would recognize! We were on a mooring buoy in

Prince Rupert Bay

, Portsmouth. There is a huge effort being made by the local people to stamp out petty crime and to attract more yotties to the area because it is very poor and doesn't seem to have recovered from the many hurricanes that have hit it.

The anchorage is highly organised. One is not plagued by boat boys. The price for a mooring is fixed at

8 per night and our boat boy, Jerome, was a really helpful and friendly young man. While there, we went on a tour up the Indian river on a river boat- it was like a mini-mini version of the Amazon. We saw some big iguanas, blueback herons, kingfishers and pelicans. It was an amazing little trip. We will definitely return to Dominica for further exploration.

By the way, we encountered our first Caribbean whale on passage from

Bequia to St Lucia

on March 8th. The skipper got quite excited but I, on the other hand just wanted to give it as wide a berth as possible!



Antigua



After Dominica, we went to

Goudeloupe

and then on to

Antigua

which is for some the Mecca of the Caribbean. We opted to enter

Falmouth Harbour

rather than its more popular neighbour,

English Harbour

, simply because it's a lot more spacious!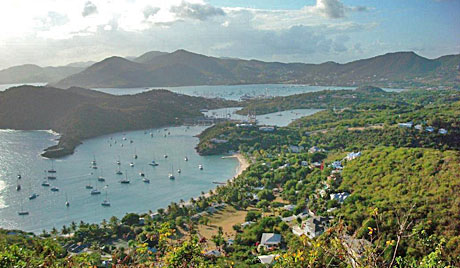 English Harbour and Falmouth Harbour, Antigua
 
We picked up one of John Bentley's mooring buoys and spent a very comfortable week there just yards away from the Super Yacht docks!! What opulence! Incredible! The place was full of young, professional crews, all dressed in their uniform of beige shorts and white polo shirts! All very yuppie and British but it was nice to be around young people again.

We spent St Patrick's Day there and were delighted to join with fellow Irishmen, Vincent and Maureen O' Farrell and family of

Shangan

and Jarleth Cunane with his sisters and their husbands of

Northabout

fame for the obligatory drowning of the shamrock in Nelson's Dockyard which is situated between Falmouth and English Harbour. Nelson's Dockyard has been magnificently restored to it's former glory and is a delightful place to visit.

We also enjoyed the superb views from the famous

Shirley Heights

Lookout. Every Sunday evening a "must not miss" barbeque with live steel band music is held there - an unforgettable experience!

We took the bus to

Jolly Harbour

- a yachting centre and holiday resort and also went on a few occasions to St John's, the capitol. It was here that we experienced the impact of the Cruise ships on the commercial life of the island. There were large numbers of duty-free shops built in a Caribbean style village just where the Cruise ships dock. It is all very colourful and tasteful but again only one street deep!

We ended up sitting out an "abnormal swell warning" in

Antigua

. It was inadvisable to go sailing for about 4 days because of the swell which was up to 18 ft. It didn't cause the extensive coastal flooding they were expecting but it was prudent to stay in harbour and enjoy the delights on offer! We will definitely return to Antigua for the Classic Boat week regatta which is held in April each year.

While online in Antigua, we learned that Pat and Olivia Murphy of HYC had received an ISA award at the Cork Dry Gin annual sailing awards. Congratulations to both of them - it is richly deserved! (Pat and Olivia are on the verge of completing a circumnavigation). We would also like to congratulate Ciara Peelo of Malahide on winning a place on the Olympic Sailing team. Very well done, Ciara!



St Martin / Sint Maarten



On Easter Sunday, March 23rd, the swell had sufficiently settled for us to make the overnight trip to

St Martin

. This island is shared by the French and the Dutch. We had a very brisk sail up in 25-30 knots of wind coming over the beam and arrived off the island in the dark. As we never enter unknown harbours in darkness, we had no choice but to sail up and down in 30 knots of wind until daylight! We went on a broad reach and enjoyed one of the best sails of the season even if we would have preferred the cosy comfort of our bunks!

We anchored in

Philipsburg Bay

at first light. It was so rolly that we had to put up the lee cloths! So after a 3 hour sleep, we weighed anchor and headed for

Simpson's Bay Lagoon

which is a very sheltered anchorage as it is surrounded by land and Mega Yachts! We stayed on the Dutch side of the lagoon as there was more space here because of a $50 weekly charge. It is free on the French side but very far from shops and facilities. We decided to treat ourselves to a new rib (hard bottomed dinghy) at Budget Marine. We really need a hard-bottomed dinghy to get ashore in the anchorages. So we traded in our little Plastimo dinghy against a bigger and better rib. At

1,000 it was a superb deal compared to Irish prices for a 2.6 meter hard-bottomed rib made from top of the range hypalon and it was also a nice present to ourselves in celebration of our 38th Wedding anniversary (March31st)!



Philipsburg

is the capitol of St Martin and you might as well be in the duty-free of an American airport as there! It seems to have been built for the sole purpose of catering for the needs of the cruise ships. The town consists of shops selling duty-free goods and American style restaurants where burgers and ribs feature prominently on the menus. The main attraction of St Martin for me were the beautiful golden sandy beaches which are quite rare in the Caribbean otherwise we wouldn't rush back!

We spent a pleasant week in St Martin but the following Sunday when we were exiting the lagoon (the bridge only lifts 3 times per day), we ran aground as we held back while a large magnificent yacht ahead of us sorted out a little problem with it's anchor. Unaware of the problem it had caused us,

Valsheeda

, progressed majestically on out through the bridge opening. My skipper considered it an honour to run aground helping out

Valsheeda

, a former America's cup J-boat which is considered by many to be amongst the most elegant sailing boats ever built! With his usual skilful seamanship, Ken managed to get us afloat again just in time to exit before the bridge closed for the day.



St Thomas, US Virgin Islands



What can I say? It's part of America - every day 3 new cruise ships arrive in this bay and offload thousands of tourists onto the streets of Charlotte Amalie. The nearby marina, Yacht Haven Grande is the most luxurious and tasteful marina complex we have ever seen but its practically empty except for the Super Yacht crews! But back in town there are literally hundreds of duty-free shops lining the main streets. All the former warehouses have been converted to barn-like shops selling gold and diamond jewellery, liquor, cigars (no Cuban!) and cigarettes. It is very artificial. Inland there are many holiday resorts with golf courses.

I imagine it is like a mini Florida - definitely not on the list for a return visit! We are really looking forward to our

visit to America

but didn't expect to come upon it so early on in the trip! However, the people are very welcoming and friendly. We got a particularly nice reception in Customs and Immigration and have no complaints about the facilities. The anchorage is superb and not very crowded and there is a great supermarket "Pueblo" nearby where I can provision the boat.

Yesterday, we discovered that our 2 Visa cards have to be cancelled because they had been used in suspected fraudulent transactions in St Petersburg, Russia! We suspect the ATM machine in St Maarten is the culprit as it was the only one we both used. This is a real bummer as the Maestro cards are not widely accepted over here. Even trying to sort out a forwarding address for the new cards is a major headache. We have enough cash to survive for a while. So maybe it is just as well we are heading off for a week long voyage at sea where we can't spend any money!

As usual there is lots and lots more I could talk about from my daily logs but enough is definitely enough!!

I will let you know how we fare on our passage to the Abacos!

"Have a nice day"!

Carmel & Ken Kavanagh


Safari of Howth


EMail : carmelveronicakavanagh@yahoo.ie