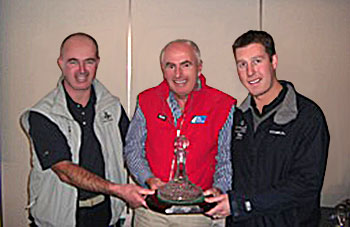 (L-R) Dave Dwyer of

marinerscove.ie

, ICRA Commodore Barry Rose and Dave Nixon of

Rosie


at the joint presentation of ICRA Boat of the Year award in Athlone on November 29th
Howth Yacht Club has logged another success with the Corby 36

Rosie

(Roy and Vera Dickson) becoming one of the

co-winners of the Irish Cruiser Racing Association's "Boat of the Year" award

. The announcement and presentation were made at last weekend's annual conference of ICRA in Athlone on Saturday November 29th, where the Howth boat shared the honours with Dave Dwyer's Mills 39

marinerscove.ie

from Cork, which had leapt to the forefront at the very successful 2008 ICRA Nationals at Howth in May.



marinerscove.ie

- Dave Dwyer - RCYC



Rosie

- Roy and Vera Dickson - HYC
 


Rosie

's wins came both home and away. At the end of May, she was tops in Class 2 (23 boats) in the

Scottish Series

, also collecting the Sail Scotland trophy for best foreign boat. In June, she was briefly home to win the

Lambay Race

overall and take the Lambay Lady Trophy, and soon was making the scene in

the Solent

, winning Class A and overall in the Corby Cup series, and then in the

British IRC Championship

winning Class 2 (28 racing) and placing third overall.

Back home in Ireland (the crew panel do the deliveries themselves, they're very busy boys) she won Class 0 in the

Royal St George regatta

in Dublin Bay, and then headed south again for

Cork Week

where she recovered from an early race placing of 23rd in Class 2 (26 boats) to find such good form that she won the class overall by 13 points.

Home to Howth again, and in August she placed second overall in Class 0 in the

Cocoon Series

in Dun Laoghaire, and then in the

HYC Autumn League

, despite the frustrations of calm and storm, she was overall winner of Class 0.

Most of

Rosie

's crew panel are drawn from HYC, including Roy Dickson, Jim Barden, David Nixon, Nick Smyth. Fred Connolly, Darrell Reamsbottom, Mick Murtagh, Paul Manning, Paul Reilly, Shane Mulhall, Arthur O'Kelly and Declan Byrne, while guest appearances aboard included Des McWilliam (Royal Cork), Mark Downer (Cowes) and Jos Walsh (Dunmore East).

In 2009, the ICRA Championship will be held at Tralee Bay SC in Kerry from 12th to 14th June, preceded by the West of Ireland Championship (won in 2007 by Vincent Gaffney's Alliance HYC) from June 10th to 12th.

The newly elected Commodore of ICRA is Barry Rose of Royal Cork, while Francis Ennis of Howth is Vice Commodore.