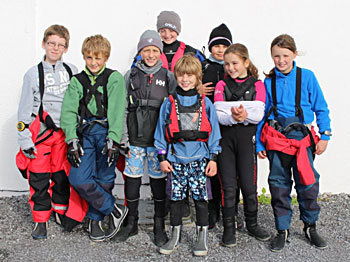 (L-R) Sam Crawford, William Lacy, Hugh Turvey, Jack McMahon, Luke Turvey,
Dylan McEvoy, Ruth Lacy, Aoife McMahon, Daniel Hopkins (missing in action!)

Last weekend saw nine HYC oppie sailors venture west to participate in Iodai's Connacht Championships.

Earlier in the week the forecasters were predicting light to medium winds for Galway Bay for Saturday, but that was not to be. The day dawned bright and sunny and the bay was a picture to behold as the breeze built to a constant 20 knots plus.

The Main fleet slogged their way out to their race course which was three miles further down the bay.

After a short postponement, racing got underway. Conscious of the potential for Sunday being a blowout, the PRO fired the fleet off on 4 challenging races with winds gusting to 28 knots. The Junior fleet was given separate starts five minutes ahead of the Senior ones, creating a useful wind indicator for the chasing pack.

HYC was represented by five sailors in the Junior fleet - Jack McMahon, Sam Crawford, Dylan McEvoy and Ruth & William Lacy, and Daniel Hopkins was Howth's only representative in the senior fleet. The rolling starts meant that the seniors tended to catch up with the junior fleet and Daniel managed to confuse himself and a few others by finishing ahead of the junior fleet in one race!

Ruth had made the move to Main fleet after her brilliant performance in winning the Regatta Fleet Munsters and did remarkably well as Saturday was a long, tough day even for the most seasoned sailors.

All sailors were thankful of a more relaxed journey home with both the wind and the warm evening sun on their backs.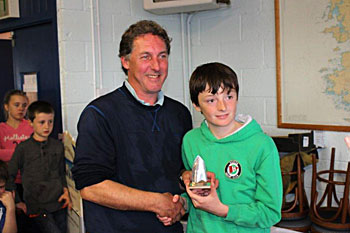 Jack McMahon

Damp drizzly conditions prevailed on Sunday with the wind have having dropped to a more manageable 10-14 knots. Two races were completed for the main fleet and Jack McMahon did fantastically well, finishing 5th in Junior Silver and earning himself a promotion to the gold fleet and a place on the under 12ís squad for next year.

Aoife McMahon and brothers Hugh & Luke Turvey represented HYC in the Regatta Fleet. The intrepid trio handled Saturday's testing conditions superbly, chuckling their way through their various mishaps before returning to the clubhouse for what appears to be an obligatory post-sailing sweetfest! Hugh managed to find a groove in the moderate wind conditions on Sunday, impressively knocking out three 1sts to finish 2nd overall.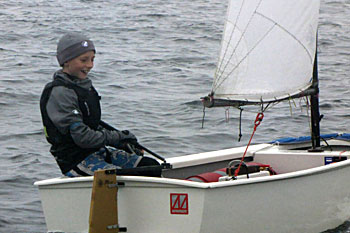 Hugh Turvey

A big thanks to Galway Bay Sailing Club for running a great event.

The event concludes an IODAI racing season that has recently seen Daniel Hopkins and Max Kavanagh qualify for the National Optimist Squad. Their first training weekend is next week and they have a trip to Palma in December to look forward to (and a week off school!)

Winter training will start soon in HYC and don't forget the end of season race & prizegiving this weekend.