Ten teams took part in the Irish Team Racing Champs at HYC over the weekend. Fireflys were used, which was a welcome return of the boat to HYC, after many years absence.
Perfect weather conditions coupled with slick race management from PRO Emma Lovegrove and her team ensured a highly successful championship.

Team Racing requires a large amount of backup on the water; rib crews, umpires and facility for crew transfers. A big thanks to everybody involved, including Mick Hunt for providing Erraid as a mobile dock and Neville Maguire for similar support with the Free Enterprise.

The

Open

Championship went to

West Kirby

. The top

Irish

teams were

"The George Knights"

and runners up the

RStGYC team

. They will travel to the World Championships in Newport, USA in September.

Eavan Ganon & Rachel McManus organised the event with Riain Timon & Paul Newport organising the associated HYC activity.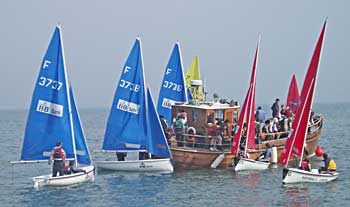 Mike Hunt's

Erraid

was an excellent support boat, along with HYC's

Free Enterpise

.