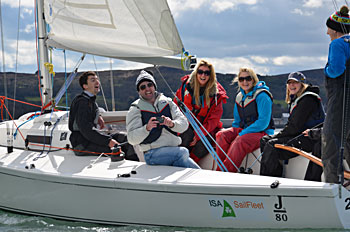 On Sunday the 21st April we hosted a special event in conjunction with the Irish Cruiser Racing Association, affording 100 young enthusiasts the opportunity to sample keelboat sailing under the expert supervision of some of Ireland's top sailors and coaches.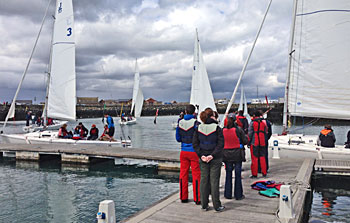 Three groups each of 30-35 people were taken sailing on the ISA Sailfleet J80s and 'shown the ropes' as they were put through a series of crewing challenges, many of them for the first time. Sailors were then assessed for their abilities and sent to debrief meetings hosted by Maurice O'Connell, Graeme Grant and Noel Davidson.

This initiative was set up by ICRA supremo Norbert Reilly and facilitated by HYC Sailing & Membership Committees, volunteers and the coaching was overseen by International Sailing Coach David Harte, who travelled from West Cork to help the ICRA team.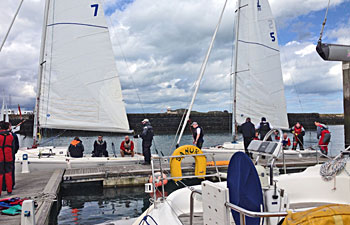 The huge interest in this initiative is hoped to both introduce new people to the sport as well as refining existing talent in keelboat sailing and racing.

Participants will be encouraged to join racing crews in Howth and elsewhere and following the great welcome and experience on Sunday, many have already signed up for membership of our club. A second date is being scheduled for May 25th.